A January surprise
The surprise is, there's no surprise
Just kidding! There is one surprise! This was the month I finally applied for Canadian citizenship!
The last time I checked in on this, I wasn't eligible to apply yet, but this month, angered by another horrible thing that Donald Trump did, who even remembers what at this point, I crankily and with great malice aforethought gathered all my documents together and created an Excel spreadsheet to completely calculate and track my time in the country.
That's right! Revenge admin tasks! I'm a pioneer in the field, as I will prove again later in this newsletter.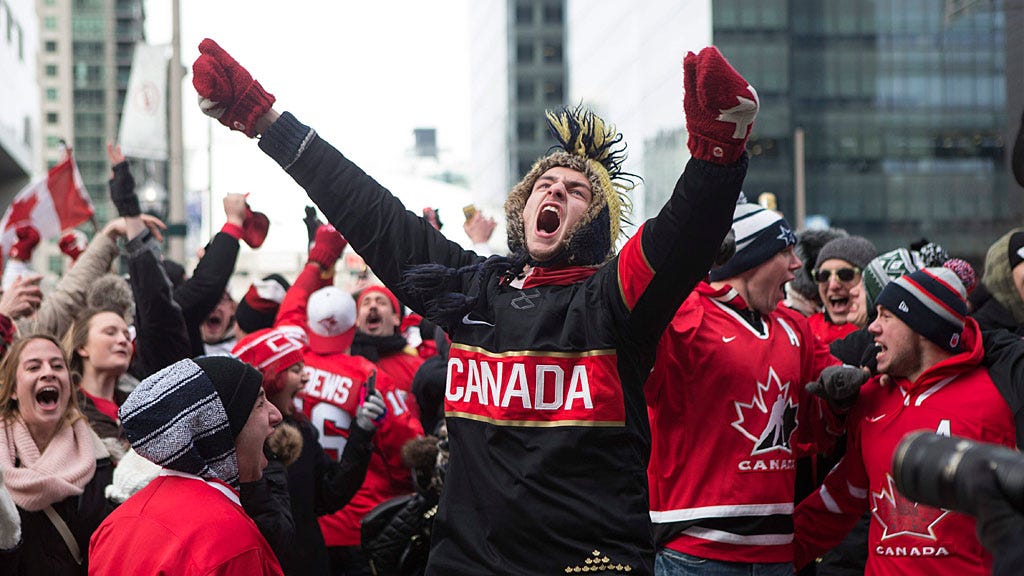 Actual footage of me when I found out I could apply. P.S. If someone doesn't get me those mittens then I am never speaking to any Candians ever again.
Anyway, the administration is no small piece of the citizenship application, because your time is counted in half days before you become a resident, and your time outside the country on vacation counts against the total. So it was a lot of documenting and gathering and looking stuff up on Instagram (thanks for helping me obsessively document my vacation time, by the way, social media), but the upshot was, I found out I was eligible. Back in October, actually. So I applied.
It'll be at least another year before it's approved but you can expect a really fun video of me going to the post office to drop off my application at some point. It was the one day a year that Vancouver gets torpedoed by snow, and I was in a really good mood, and the laissez-faire attitude of the post-office guy when I told him what I was mailing ("congratulations.") did nothing to dampen my spirits. I jubilantly warbled out the Canadian national anthem no less than four times, and I made Grant document all of them on video.
So that's something to look forward to.
BUT SPEAKING OF VIDEOS OF ME SINGING
This month, my pal Neilson asked me how it was going with my learning piano, and I owned that I've learned a second song, but I haven't gotten very far with it because of a certain family member singing along and how every time I sit down to practice I just end up laughing.
I bet y'all didn't know that Jason Robert Brown actually originally intended this as a duet, but that's why I'm renowned as a musical theatre scholar. Anyway, please enjoy, or if you've already seen it, please enjoy a second time.
(Notice that I have not allowed for an option of not watching it. What are you, made of stone or something?)
In a very Inception-type thing (I guess. I saw that movie a long time ago but was too scared to actually watch it), whenever I play this video on my home computer, Woodrow howls along with himself in the video. It's EVEN CUTER than the original video. Frustratingly, he won't howl when other people are around. I've tried so many times and it never happens. This is something he only does when he's relaxed and it's just him and me and no one else. He's either too shy, or he gets performance anxiety, or he gets the opposite of performance anxiety where he's just TOO EXCITED (likeliest), or it could be he's one of those artiste types who's like, "look, I'm just not in this for the glory or the Milk Bones, mannnn."
(I am just kidding; my dog, like all dogs, is very definitely in it for the Milk Bones and the Milk Bones only. He will let you pet him, he guesses.)
DO LITERALLY WHATEVER YOU WANT
So I decided to hang up this image of a fish climbing out of water over my desk this year.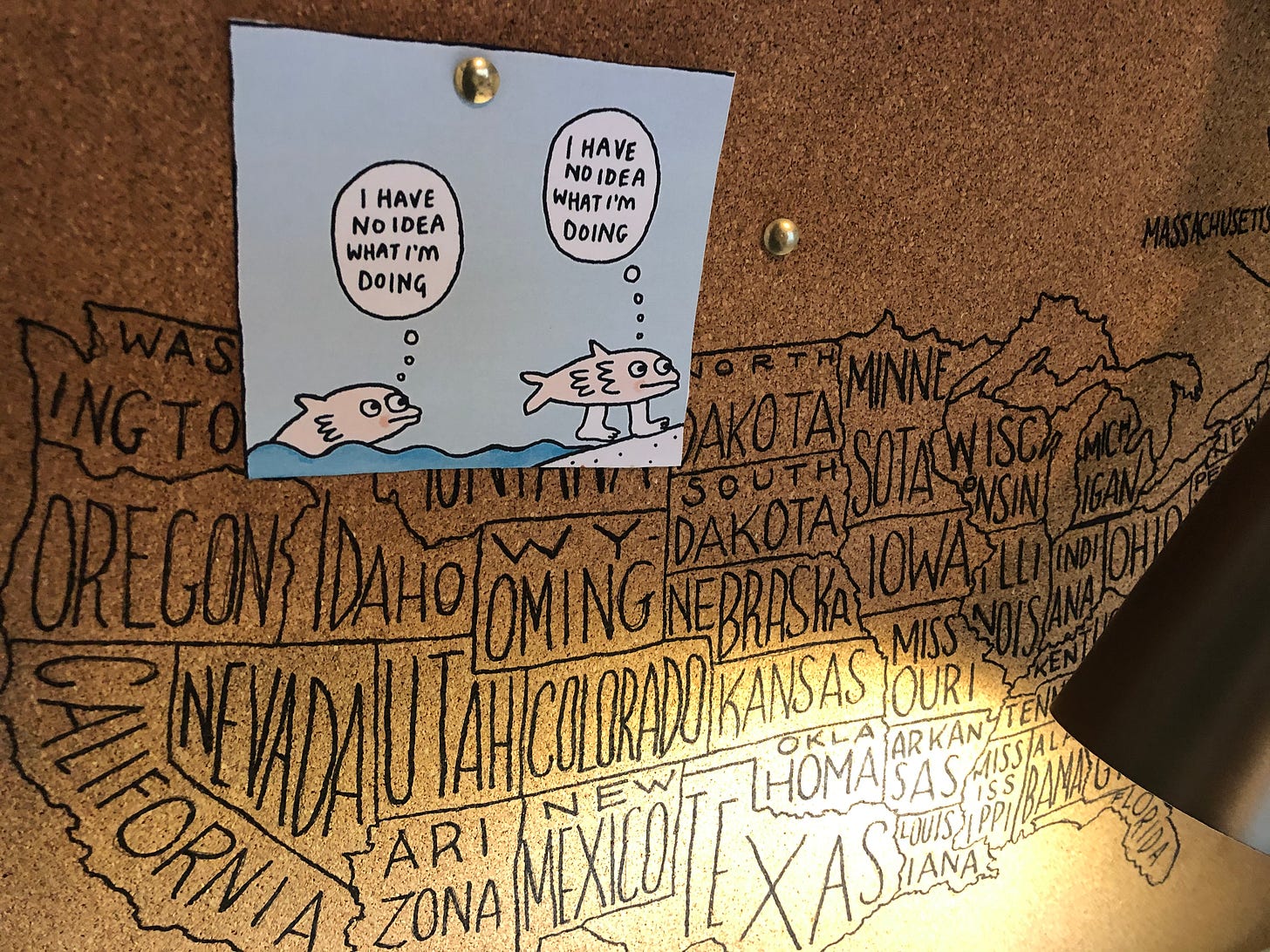 I've been adopting all kinds of healthy practices, meditation, yoga, not giving a fuck what people think (still working on this one), but probably the most important is a willingness, and it's new, to put out something imperfect when I'm not sure where it's all going yet. This fish embodies that whole principle and it's super good.
If you need further proof that this is a solid concept, you need look no further than your pal and mine, former NYC Mayor Mike Bloomberg.
Sure, he's a successful politician and billionaire, but he's also completely unaware of what to do with a dog. But is he anxious about it? Absolutely not. He's lived 77 years on this planet, several of them with dogs actually inside of his house, but he is TOTALLY UNBOTHERED.
So, go for it. Commit. Live your dreams. Shake hands with the dog's mouth.
BUT, YOU KNOW, BE CAREFUL WITH THE DOG'S MOUTH, TOO
A few weeks ago, we made stuffed spaghetti squash for a dinner party, which, side note, have you tried this? It's a revelation. We made it with Beyond Meat because I'm kinda-sorta leaning vegetarian these days, but real meat or not, the slightly crunchy and virtuous spaghetti is the star here. It is really yummy. No, seriously. It's one of those healthy replacements where the replacement is in some ways better than the original.
Now, I know what you're thinking: "Angela, pasta and therefore spaghetti is nature's gift to us and I'll be damned if I am going to replace it with SOME GOURD."
But listen. While spaghetti is wonderful, spaghetti squash COMES IN ITS OWN BOWL and also, as you're eating it, you get to scrape the spaghetti (okay, not spaghetti, but strands of gourd that look similar to spaghetti) from the sides of the bowl and it's satisfying, like you're excavating your own dinner like they did in olden days. (Note: I have absolutely no idea what olden days were like but I assume excavation was popular in general.)
I don't know, it calls up something primal within from the hunter-gatherer-diamond-miner days and I enjoy it. This paragraph has NOT been paid for by the Spaghetti Squash Council of America.
(That probably exists, right?)
Anyway, the reason I really wrote this is to tell you that, post-dinner-party, there were a lot of denuded husks of spaghetti squash (no leftovers) (and remember it was all vegetarian) and we put them in our trash (PSA, these should have gone in compost but our bin was full or something, so what happens next is entirely my own fault).
(Uh, content warning: Dog vomiting ahead)
Our dog managed to fish several pieces of the spaghetti squash husks out of the trash and eat them, unbeknownst to us how this was even possible, but I know that it happened because now, every few days, he vomits up an INTACT piece of spaghetti squash peel.
The first time this happened, I spent several minutes staring at his vomit in an attempt to figure out precisely what he had vomited up.
Dog ownership is endlessly glamorous, it's true.
I showed the shard to Grant. We were both mystified.
It was obviously a hardened yellow shard of…. something. Eggshell? Banana peel? Cheese rind? Alien placenta?
Nothing looked quite right; "placenta" was my best guess until I said to Grant, "It sort of looks like a piece of pumpkin, but" and Grant said "OH! … the spaghetti squash?" and I said, "Damn it," and Grant said "Damn it," and Woodrow said, "I'd eat more right now if you gave me some, even now, having just barfed it all up."
It wasn't all, though.
Several days later, he horked up some more pieces. We hope we've seen the last of it by now but there is no telling how long spaghetti squash husks live in a dog's stomach.
Also, if this story grossed you out, remember, it was entirely within my power to illustrate this story with art straight from the source, if you get my drift, and I chose not to. I am a giver, it's true.
BRINGING BACK AROUND TO REVENGE ADMIN, NOW
Earlier this month, for whatever reason, I remembered my first year in New York when I was temping at an enormous insurance company, and my boss told me to send out holiday gift baskets to all of his professional and personal contacts, on his behalf.
I was 26 and it was my first for-real office job, and there were parts of it I enjoyed (really just my desk mate, Kathy, who was hilarious and rad), but most things about the job, I found mystifying.
So my boss gave me a list of addresses, a budget, and his credit card, and he sent me to a website with a range of nice-looking baskets with, you know, artisanal jams and imported chocolates and fiddly crackers and cheese spreads and other Professional Fancy Things of the sort that Professional Fancy People send to each other, impersonally, during the holidays.
(Or, as I learned that day, spend five minutes telling their assistants to send each other.)
So the website offered those fancy baskets, which I understood was what he intended me to send, BUT UNFORTUNATELY FOR HIM I kept scrolling, and the website also featured baskets, also within budget range, composed of more humble, common-sense treats, such as full-sized Hershey bars and giant bags of M&Ms and Lay's Potato Chips.
"This is a delightful thing I've just discovered," I said to myself.
Now, I knew that these were probably intended for kids, but I also thought it would be funny and stupid to send these out to all his sensible insurance-person colleagues instead of the Fancy Baskets (boring!) that they'd all be expecting. Of course, this act was a minor fuck-you to the One Percenterness that the task represented (the budget he gave me for each basket was about a quarter of my monthly rent at the time), but I also, real talk, thought it would be more practical for the recipients. I mean, how many unopened jars of Fancy Jam do you have at the back of your pantry? And how many unopened bags of Lay's?
Astoundingly, I did not get fired for doing this. He never even asked me about it. I actually wonder if the recipients were all too confused to ever say anything to him.
I enjoy all the different versions of myself, and this story is exemplary of why. Also I need to keep this story at the ready if anyone ever asks me for a heartwarming-yet-pointlessly-subversive holiday tale.
WHAT'S UP,
NERDS
Coming at y'all live from Vancouver's nerd bar, Storm Crow Tavern, where my regular Dungeons and Dragons crew is starting up a new campaign run by my extremely amazing and handsome boyfriend, Grant. He just started playing two years ago and now he's DMing with lifelong DnDers at a DnD-themed bar. When I tell you my heart has never been so full. Critical hit on charisma, y'all.