A Real Fuddling Cup of a Newsletter
I'm bringing it back. What is it? I don't know.
Happy week of the Macy's Parade and the National Dog Show! Grant and I are taking tomorrow off together for the first time since I moved to Canada, and we are going to sit on our couch in yoga pants and drink champagne and watch the dog show with our cocker spaniel. Like our forefathers intended. Traditions are so important!
TECHNOLOGICAL WOES UP FRONT, BECAUSE I AM A GIVER
Mercury Retrograde, which is that time of year where everything electronic or communication-related goes haywire for a few weeks, happened in early November.
Astrologists (Grant: "you mean charlatans") say that this retrograde season was particularly hard, with relived traumas and old demons cropping up for all of us.
So if you were bummed out in early November, that's probably why. Blame Mercury! It's a planet; you are literally punching up.
For me, it manifested in:
1.     One existential meltdown
2.     Needing to get aNOTHER brand-new computer after the old one crashed. Again.
3.     My second new computer informing me — repeatedly — that there was unfortunately no keyboard or mouse attached to the computer and Bluetooth was going to have to search for them, hold please (it's… a laptop? it should not be possible for it to forget it has a keyboard. this is like if I woke up tomorrow and gosh darn it, no head attached!)
4.     Our wifi breaking. That one was less "planetary mystery" and more "remarkably negligent adulting." Turns out if you accidentally don't pay your bill for five months, your wifi will shut off. THE MYSTERIES OF THE COSMOS, MY FRIENDS
5.     A second, unrelated, existential meltdown
Keen observers may remember I went through a similar computer situation in mid-October when my laptop crashed. I bought a new computer, but then returned it because Apple's Genius Bar had managed to fix the old one.
It turned out that they hadn't fixed it, but rather "fixed it." So by November 2nd, I was back over there buying, reluctantly, my second new computer in as many weeks.
It all reminds me of the time when I was a teenager and my friends Dean and Bryan and Josh accidentally ran a car into the side of my parents' garage door, causing moderate cosmetic damage and putting a dent in the door track. My parents were out of town for the weekend, so instead of telling them about any of this, I watched the guys spend the entire next day cobbling together knowledge from their various college-theatre scene-shop classes to "fix the garage door."
The scare quotes are appropriate here because there was no actual fixing of any damage. There was just aggressive spackling. And laughter. Laughter is the best spackle!
That really belongs on an inspirational needlepoint, if it's not already.
The fix, against all odds, held for several years, but eventually, it came apart in quite dramatic fashion, with peeling-away tape and flaking paint.
I seem to recall my parents' reaction to hearing the story being: "We appreciate that you tried, but also, you're all dead to us."
So anyway, Mercury retrograde. I still am not sure what this means, except that I know the planet is not actually traveling backward; it simply looks that way from our Earthlings' perspective, which means Mercury is not doing anything at all, and stuff going haywire in our lives is our own fault and not Mercury's, like, leave it alone, it's got enough to worry about, it's about to be engulfed by the sun in 5 billion years.
(I had to Google "when will Mercury be engulfed by the sun" as part of my research process for this newsletter, so if the Feds come to take me away, you'll know why.)
Since Mercury being in retrograde caused (Grant and scientists: "[siiiighhh]") my computer to crash again, it meant that one day after NaNoWriMo started, my computer died and I stopped doing NaNoWriMo, which is for the best since I should be working on edits to my first novel instead of attempting to write a whole new one.
So, you see, Mercury retrograde is actually very beneficial and good.
---
MY DREAM SELF *ALSO* WOULD LIKE TO PET YOUR DOG
For a while now, I've noticed that when I'm asleep, my subconscious has a sweet tendency to remember that I'm in a relationship, and to remain committed to Grant's and my needs, regardless of what happens in the dream.
That is interesting since for so many years, my dream self did whatever it wanted, because you cannot control what happens in a dream, which years ago resulted in me having a dream where I was fooling around with Voldemort.
(He wasn't terrible!)
I recently dreamed that a long-fancied famous musician tried to hit on me, and my dream self blew him off, because it, too, loves Grant, and Grant only.
Adorable, no?
(The Germans really need to come up with a word for "yes your story is adorable but also kind of makes me want to vomit," as I imagine many of you would like to deploy it now.)
---
"MAYBE THE LAWS OF PHYSICS CEASE TO EXIST ON YOUR STOVE"
We went to a friend's birthday party here in Vancouver a couple weeks ago, at a Southern-food place that I tried once when they first opened and then never returned.
If you read that last part and imagined that my food review after that first visit was "bless their heart, they tried," you are correct. Vancouver burns me with its Southern food sometimes — in a fit of ill-advised hopefulness, I once ordered a pimento dip at a restaurant that turned out to be yellow bell peppers chopped into butter and cream.
BUT! happily, the restaurant my friend chose is great now.
Everyone's dinners all came with a side of grits, which were outstanding. Inevitably, someone asked, "what is a grit?"
I, resident Hermione that I am, piped up, "It's corn… you know, hominy." My friend Andrew said, "I love that you're sitting with a table full of Canadians and you think anyone here knows what hominy is."
After that a few rounds of My Cousin Vinny quotes ("You never heard 'a grits?" "Sure, I've heard of grits. I just never actually seen a grit"), the subject was dropped, which I'm grateful for, because if anyone were to ask me a follow-up question about what hominy is, I'm pretty sure I would become trapped in a "it's a corn, it's maize, it's what they make grits out of, which are hominy, which is grits, which are hominy" feedback loop.
SEEEEECRETSSSSSS
I am working on an absolutely bonkers writing project right now that I conceived of three weeks ago, began working on feverishly immediately, and which I anticipate publishing in mid- to late-December.
It's basically a big, end-of-decade brain hug from some of the very smart and interesting people I've crossed paths with over the past ten years, and I am very excited to share it here and elsewhere when it's all done. It is absolutely wonderful, and not to oversell it or anything but I'm pretty sure it'll be the best thing I or anyone has ever produced in all of history.
Sorry, y'all, I've just been working on being more hype about myself ever since I saw that Moby says on his website that, "in summer 1999, Moby released the album that defined the millennium."
I want Moby's self-confidence.
Also, I just remembered that California Pizza Kitchen says on its website that CPK "revolutionized pizza" when it opened in 1985. I want Moby and California Pizza Kitchen's self-confidence, and I'm actively working on manifesting this in my life in 2019. I'm just realizing I should really create a whole line of inspirational needlepoints: "LAUGHTER IS THE SPACKLE" and "YOU'RE JUST AS GOOD AS MOBY AND CALIFORNIA PIZZA KITCHEN, NAMASTE" being, naturally, my first two concepts. Get in touch if you're interested in participating in my seed-funding round.
In all seriousness, though, I really am very excited about this writing project. A lot of really amazing, successful, kind, compassionate people have trusted me with their stories, and I am feeling so weepy and inspired about it. This decade has been weird as hell, in so many ways, but like everything, there's a deep current of joy and awesomeness and learning underpinning it all. I'm grateful for that.
IN THE MEANTIME, PLEASE ENJOY SOME RANDOM LINKS
In case you missed it, this glorious interview between Steve Carell and Stephen Colbert. Best moment: "When's daddy gettin' his beak wet?"
And if you've never watched the original "Waiters Who Are Nauseated by Food," you better get it together.
This evocative, interesting piece about Pete Buttigieg by Michael Harriot, featuring a particularly great headline and lede.
A delightful story about a shelter cat who had to be put in solitary confinement because he kept jailbreaking the other animals.
And in case you were worried that our current generations of humans had a lock on dumb drunk ideas, may I present fuddling cups, a type of interconnected drinking vessel from the 17th century, the point of which was… to accidentally-on-purpose spill liquor all over yourself?
I guess?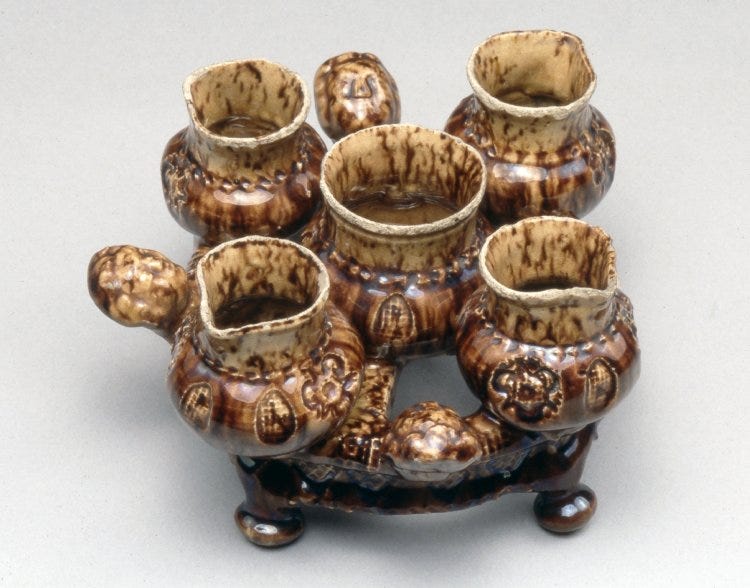 My question is "what," but also "why," and lastly, "do they sell these at Sharper Image because guess what you're all getting for Christmas this year."