April Fool's Day is canceled
And the whole world rejoiced
Did you know that Google announced it was calling off its annual April Fool's Day prank this year in honor of the folks fighting the pandemic? Call me overly optimistic, but a wild, unfettered hope has risen in my heart that, just as coronavirus has killed handshakes and the widespread inability to have beer delivered every day, this will mark the end of April Fool's Day altogether.
I know, I know: Google's thing is usually entertaining — if you are into pranks, which I confess I'm not — but just about everyone else is terrible at April Fool's. It's a legitimately hard day to even be on social media, and in fact best avoided. Blanket PSA for whoever needs it: Fake pregnancy announcements are never funny!
(Feel free to forward this Newsletter Fact far and wide if you would like backup on this with one of your younger cousins or something. I'll die on this hill.)
ON TO A MUCH FUNNIER TOPIC: THE PLAGUE
I've been keeping up with a daily coronavirus journal, and one of my recurring themes is, of course, how just plain weird it is to be living through this. The store closures! The universal uncertainty! The ever-present fear that someone on a group Zoom call will forget their camera is on and do something strange! I'm naturally anxious on the best of days (I worry about earthquakes, meteors, the sun exploding, or the earth wobbling off of its orbit and into the cold nothingness of space about once a day), so this situation has really given my brain a lotttttttt of new ideas to chew on.
In my pre-Covid existence, I'd been practicing not running a constant loop of "here's what I'd do if THIS disaster happened," and now, this situation is giving me a lot of opportunities to reallllllyy work on that practice.
Grant and I are reminded of the time we got trapped in South Africa after being robbed, which had a very similar liminal quality. The difference being of course that now it's like everyone in the entire world is trapped in South Africa with us. And similar to how we're all now being encouraged to accept the pressing of pause with grace and take up new projects and so on, Grant and I attempted to enjoy our accidental months-long sojourn when we were stuck in South Africa. And we did enjoy it, parts of it. But we also could not fully enjoy it — it wasn't like being on vacation — since we could never relax, nor plan more than about one day in advance.
That invitation to be in the present is a useful one. Both the past and future are scary places right now. In this moment, right here, I don't have any illness or tragedy affecting me personally; all I have is my awareness of the deep and abiding Weirdness of the time we're collectively experiencing.
And so: Introducing the hit game no one asked for and no one wants but everyone has been playing for 2.5 weeks and counting: CORONAVIRUS BINGO!
n.b.: I am not going to Google it to find out if this has already been done. I assume it has been done, but I'm avoiding Google just like I am avoiding Facebook and Twitter. Safety first!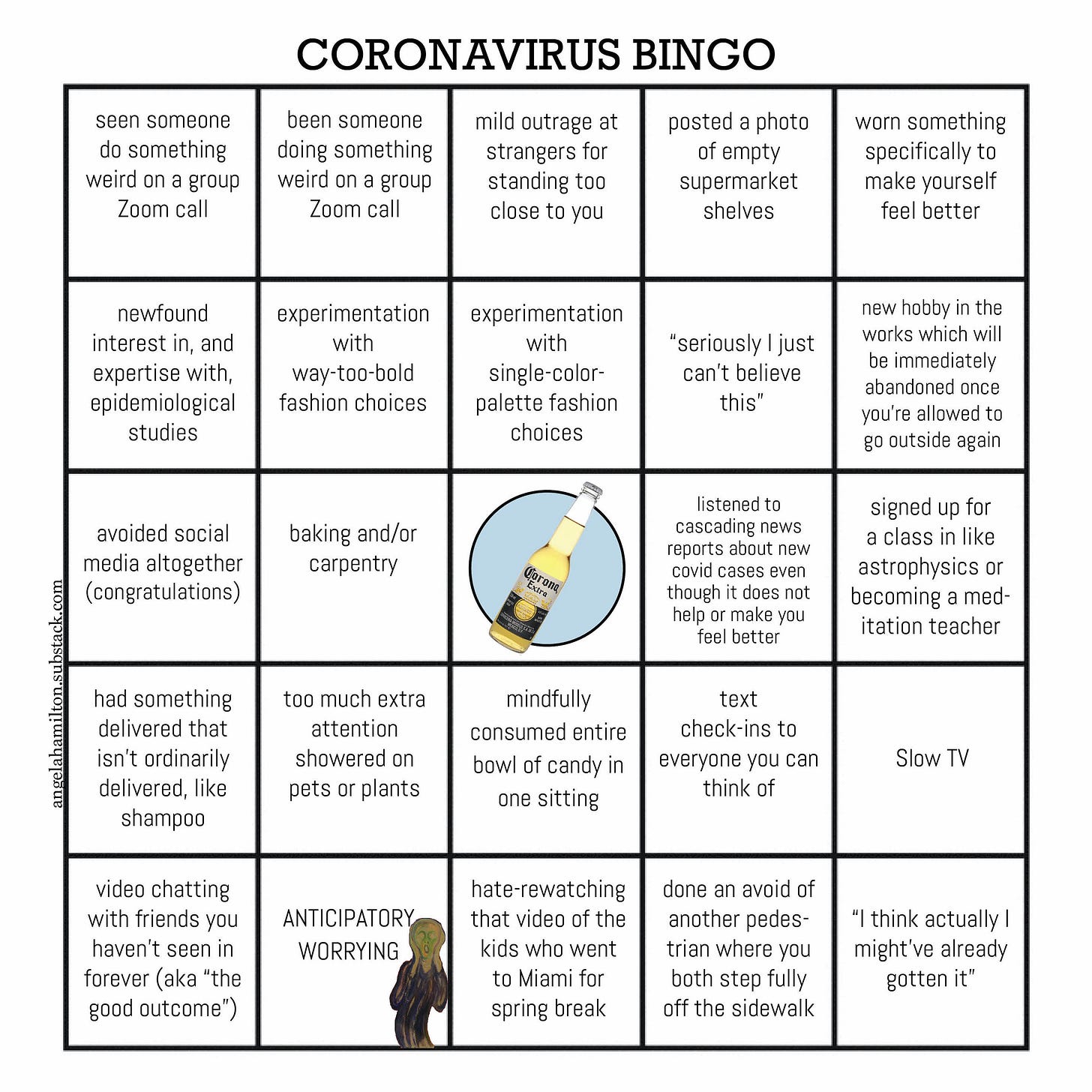 By the way, if anyone has particular memories, insights, or weird occurrences about this time that they would be open to sharing, for possible inclusion in a future newsletter, please email me. I'd love to hear about the weirdest thing you've seen so far, for instance.
THE 7PM CHEER
You've probably already heard about this (or maybe your city is doing it, too?) but it's worth re-sharing: Vancouver has been doing a 7 o'clock cheer for its healthcare workers, and it happens every day without fail at precisely 7 o'clock.
I filmed this a week ago, but it's already gotten 1000% more boisterous and loud. In addition to more clapping AND more cowbell, we've added honking, sirens, brass instruments, and the nine o'clock gun. This started in a West End neighborhood here — a few people on one block clapping for a few doctors and nurses during a shift change at St. Paul's Hospital. But it's spread across the entire city. Anecdotally, a friend of mine who is an infectious disease specialist told me last week that he happened to arrive downtown at exactly 7 p.m. when the cheers started, and that "it was so wonderful!"
And the good vibes extend beyond the medical community. I think everyone is really depending on this moment of connection right now. I'm seeing neighbors waving to each other from balconies, which is adorable. And it's only a matter of time before we start hearing stories about a 7-o'clock-cheer meet-cute. I personally am here for it.
QUARANTINE PROJECTS I HAVE UNDERTAKEN
As you may know, Grant and I are fans of Projects, even when we're not trapped at home. At the beginning of the quarantine period, we decided we'd build a new bench.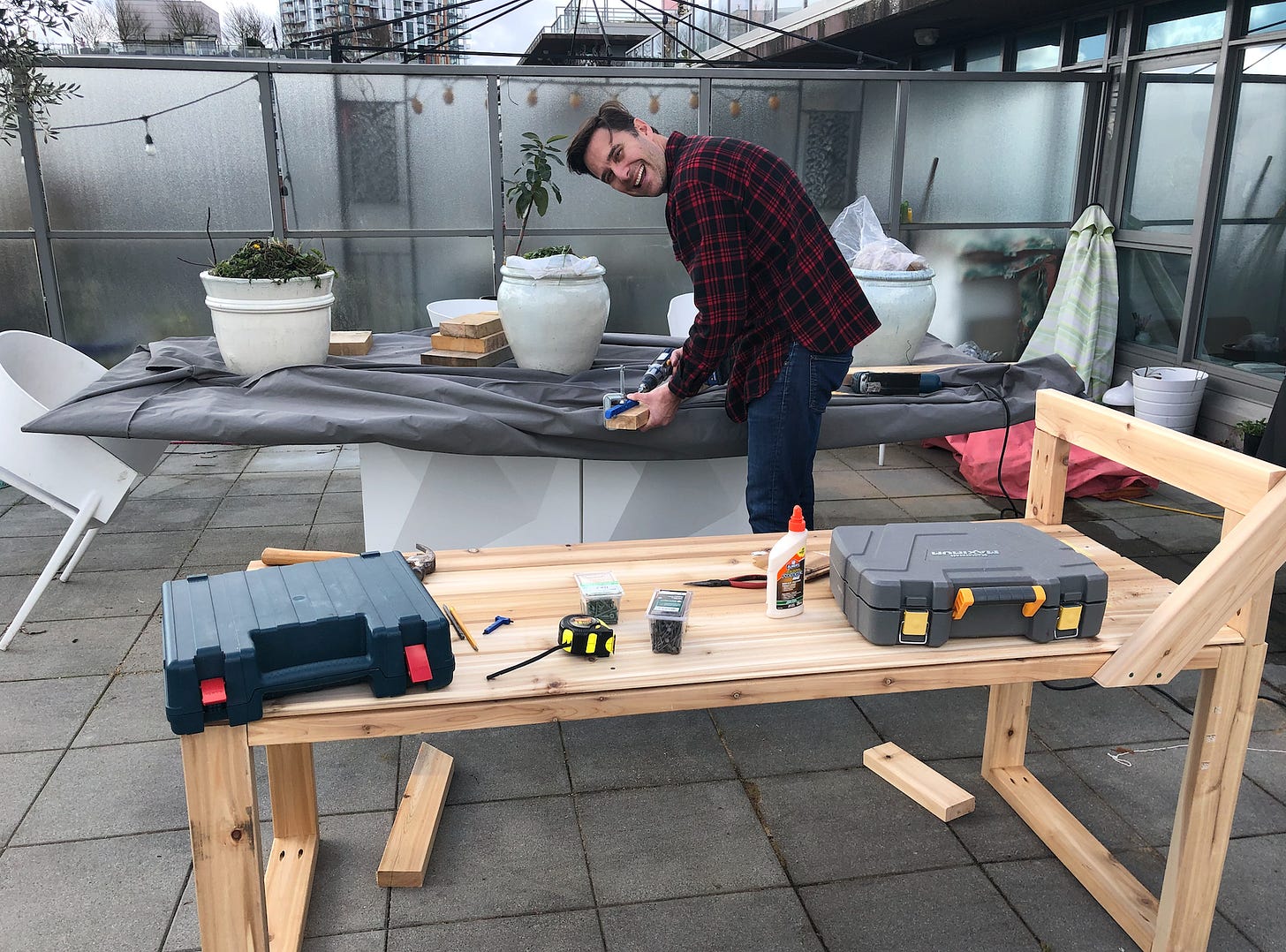 The new bench is now complete, and it is wonderful, and I am very excited to sit on it inside our greenhouse on sunny days when it's not warm enough to actually go outside.
However! In the process of building the bench, we accidentally broke a plant pot that I made during my very first pottery class last year. It wasn't a perfect pot, but, you know. I'd made it. So I was bummed for a few hours, but then I remembered the Japanese process of kintsugi, wherein you bond broken ceramics together mindfully and paint over the cracks with 24k gold, thereby beautifying the broken object and making it more valuable. I've always loved this concept, and since it feels like a good metaphor for whatever's happening to all of us right now, I decided to try it out on the broken pot.
BEHOLD, THE SECOND PROJECT!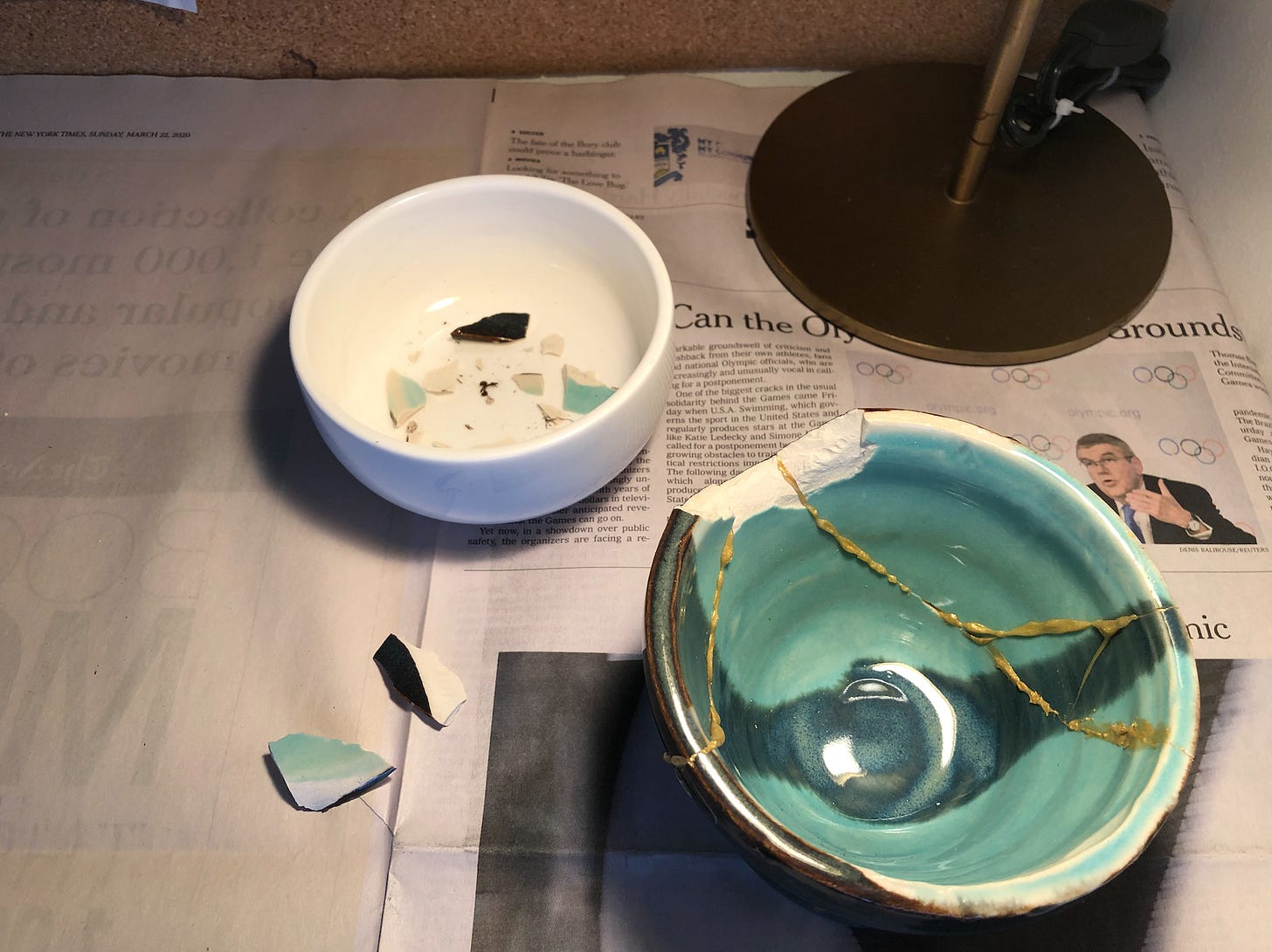 This did not go perfectly, as you can see, but it was fun. Would kintsugi again.
I also tried my hand at the distractibaking craze that I've been hearing so much about. I started with Samin Nosrat's Ligurian Focaccia, which looks amazing, and seems (seems!) fool-proof.
Friends. I ended up making The Worst Focaccia.
What I made, really, was a very large, very unyielding-to-outside-influence focaccia cracker. It was crunchy and dense and way too salty. It wouldn't've even been good for croutons.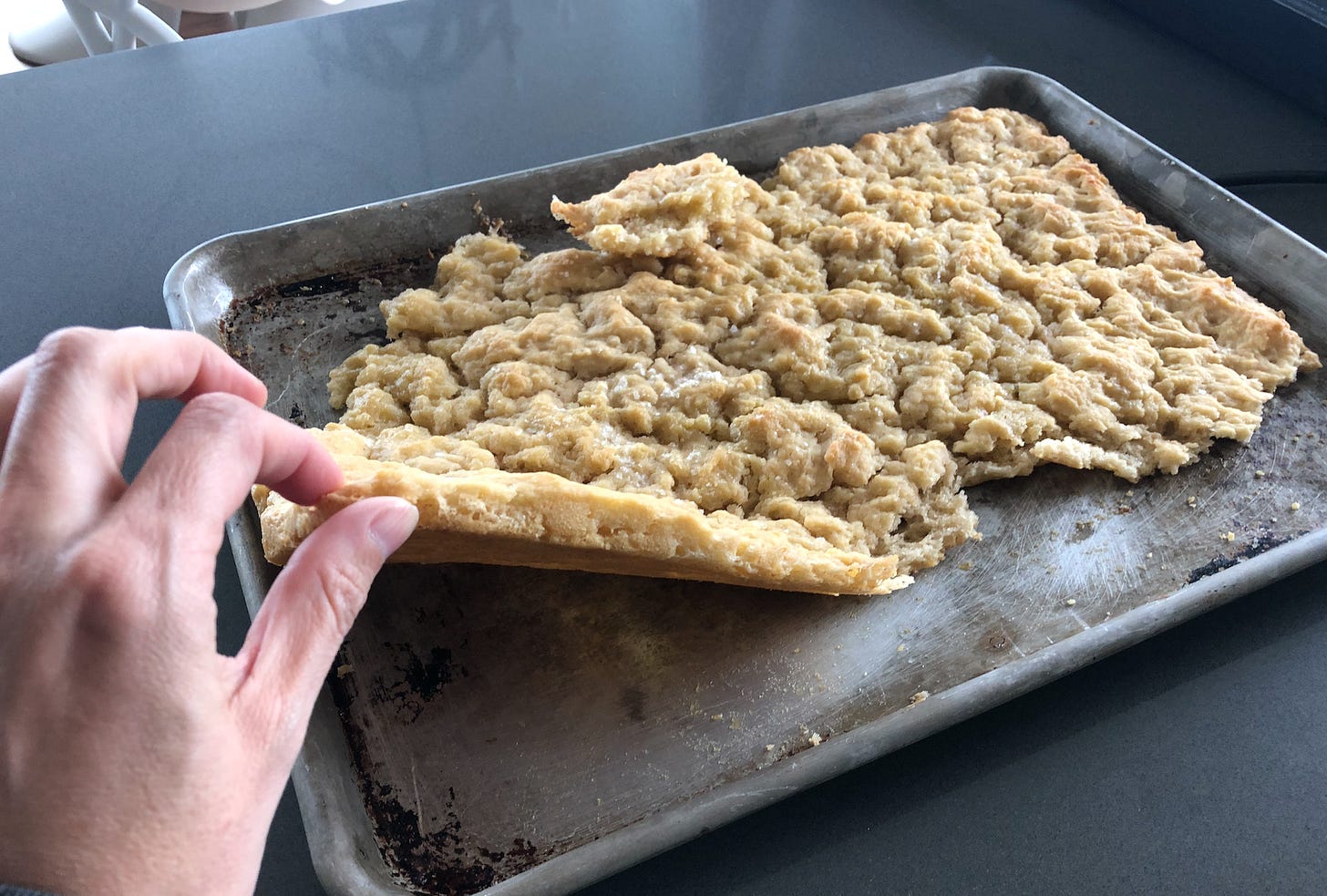 Look at this sad thing. Mistakes were made. I regret wasting half of my last-ever bag of flour on this.
(To be honest, I will probably try again, because I would love to be the kind of person who effortlessly whips up her own focaccia from scratch.)
LINKS, FOR YOUR HEALTH
You heard about the potato boss, right? She is far and away my favorite thing to arise out of this cultural moment so far.

On Steve Wozniak, Steve Jobs, and Phone Phreaking. Just a nice reminder that it was once a simpler time, even though I really only understood maybe 40% of this story.

You could do seven-minute workouts in your house, if you were so inclined.

Or you could do the opposite, and take the time to intentionally make something sweet for someone you love.

Here's something fascinating about the global visual history of pandemics. The graphics here are appealing, even cute. Do not allow yourself to be swayed by the extremely cute virus graphics. They will still kill you very dead.

That discomfort you're feeling? It's grief.

Something I've wrestled with a lot: Is engaging in retail therapy ethical during the pandemic?

Your friends at the Times of New York are out here asking the important questions during a toilet-paper shortage.

And it's nothing to do with Covid, but I really appreciated learning about the life of this seltzer delivery man who died last week.

A delightful breakdown of the perfect first paragraph of Shirley Jackson's The Haunting of Hill House, which you should add to your quarantine reading list if you have never read it (or, perhaps, even if you have).

Finally, here's a look at a traditional kintsugi production process. This is not, I should point out, the procedure that I followed. I lacked the tools, as well as the discipline, the expertise, the patience, and the access to 24-karat gold powder. (!) But I did love this gorgeous video, of which I watched all 22 breathtaking, life-giving minutes. I watched several other kintsugi videos as well, but I just picked my favorite to share. If you are so minded, and I am, you can fall down quite an internet rabbit hole of kintsugi videos.
WHILE I'M AT IT, A FEW MORE CALMING THINGS TO REST YOUR EYES UPON
Grant and I have become newly obsessed with a British competition show called The Great Pottery Throw-Down, in which amateur potters craft beautiful objects from clay, and also craft, for some reason, near-constant sexual innuendos. British pottery aficionados all love masturbation humor, is one of many new things I've learned from watching this show. We've binged all three seasons in the last two weeks, and I will say that my coronavirus experience has featured way more ceramic craft than I would've expected, but I do not mind it. Bonus: every hour-long episode's available on YouTube.

Speaking of YouTube: perhaps you would enjoy taking in some Slow TV? Perhaps you would enjoy ten hours of a train moving through the snowy Norwegian countryside? This is a very nice thing to have on in the background while you are doing a big hours-long cooking or cleaning project, or perhaps to console you after a major Focaccia Failure (not that I am speaking from experience here.)

Or maybe, just maybe, you'd like to use this time to get really into Fishcams. Look, I don't know your life.
AND IN CONCLUSION THE LOVE YOU TAKE IS EQUAL TO THE LOVE YOU MAKE
It is such a strange thing to be going through such a weird, unsettling time, and to feel unsure even about reaching out to friends for support because all the friends you'd ordinarily lean on are going through the same unsettling time. The one thing I do like, though, is the invitation that I mentioned above, to remember that we really only have, we only EVER have, the present moment, the here and now. Thanks for spending this one right here with me. It means a lot to be able to have this outlet and moment of connection. I appreciate you all.
Wear your masks and wash your hands! And now I leave you with the photo I got back from Grant last week after I sent him the first video I made of the 7 p.m. cheer: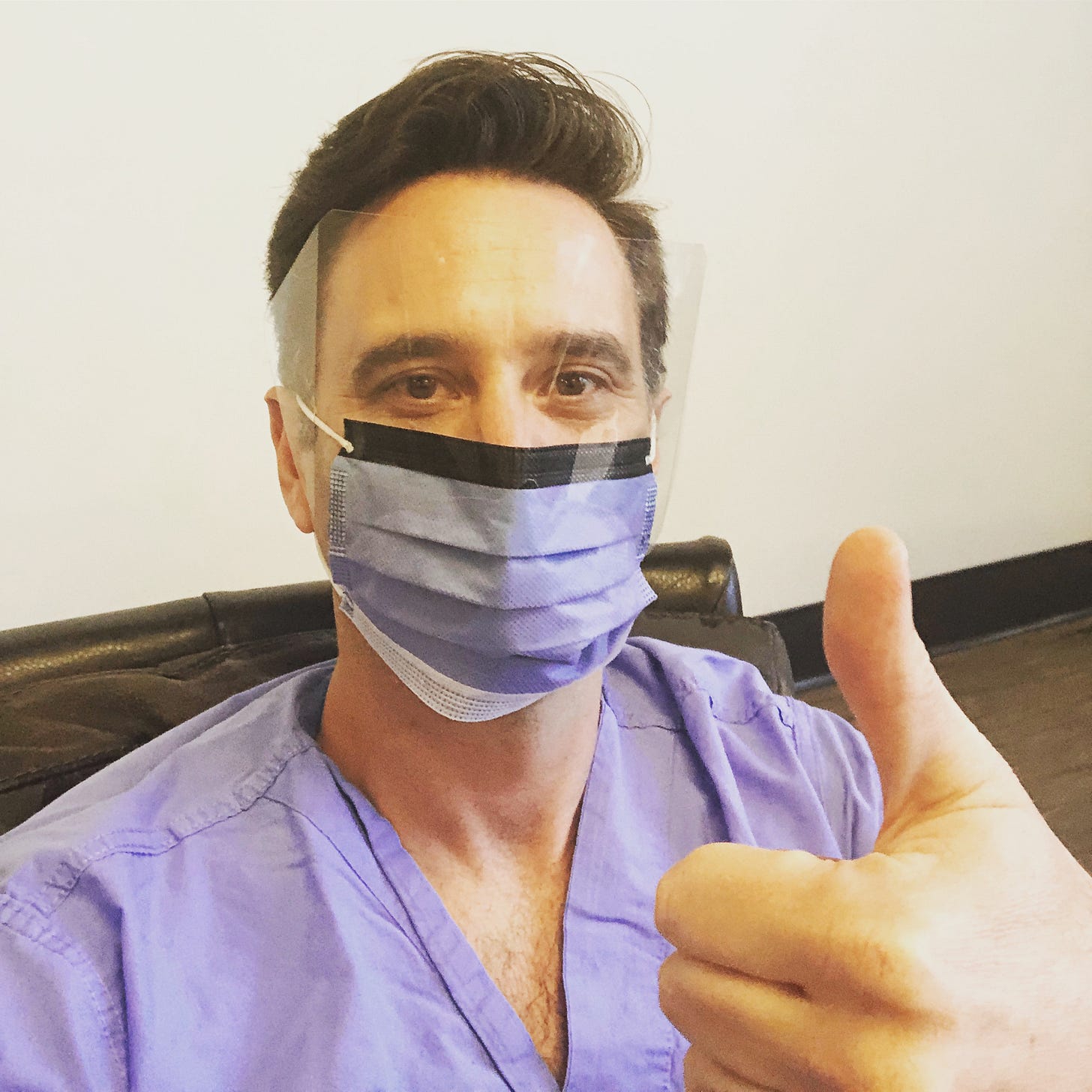 Lots of love, friends.