Black Lives Matter
Say their names.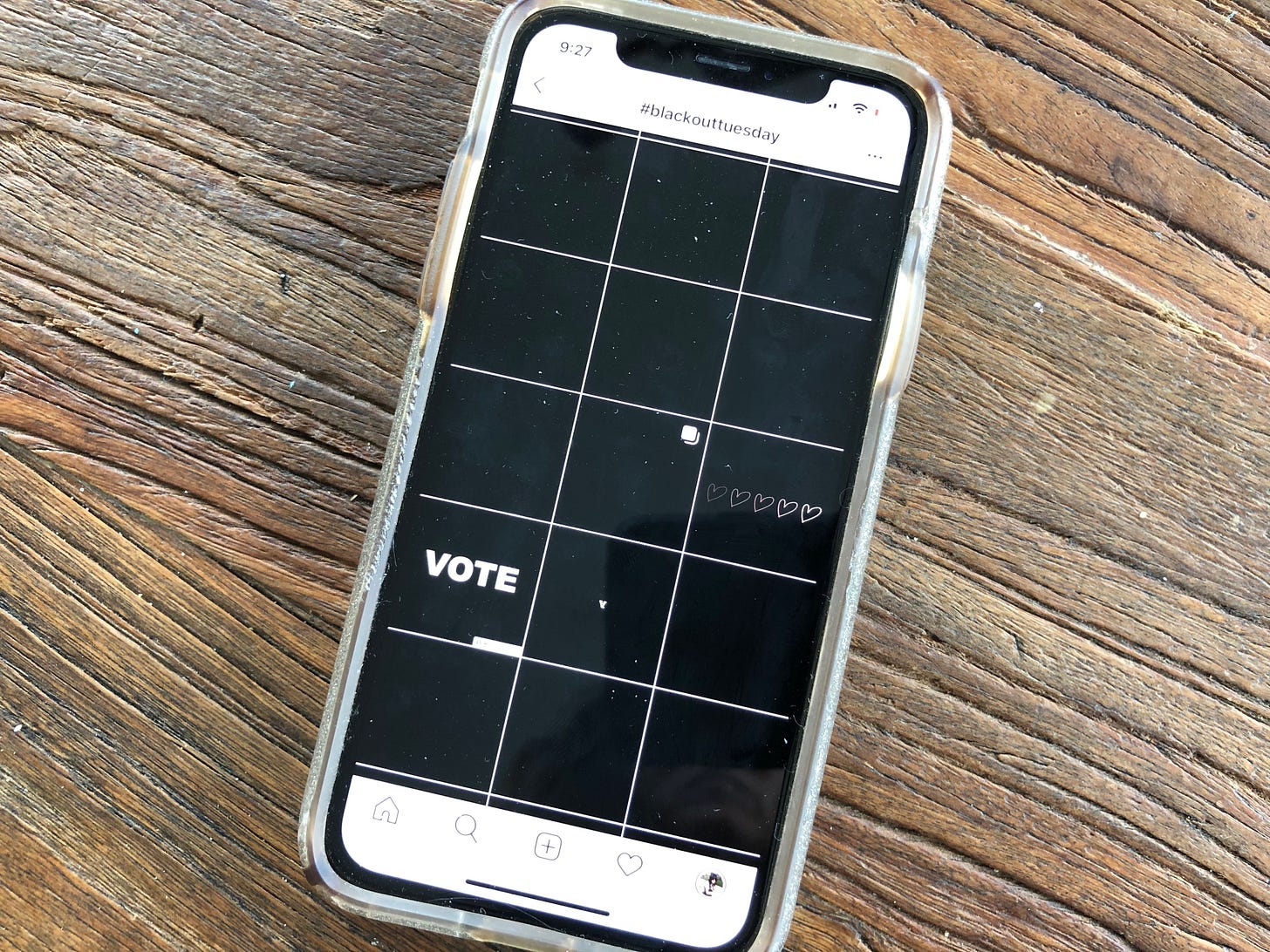 This week, #amplifymelanatedvoices is trending on Instagram. This movement, started by two black women, @blackandembodied and @jessicawilson.msrd, is meant to ensure that white people don't take over the conversation about the murder of George Floyd and continued police violence by centering ourselves and our feelings. The founders of the movement have encouraged Instagram users to mute the white people they follow for one week and be with/question the discomfort that arises.
Many have self-muted on social media today with black squares, which is also in response to the music industry's invitation, #theshowmustbepaused, started by two Black women: Brianna Agyemang and Jamila Thomas, who are record execs at Atlantic.
My offering today is to get out of the way and spotlight some of the work Black writers have done to help us learn to be better allies in the fight against racism and white supremacy.
Racism and Covid-19 (due to inequality) are killing our Black brothers and sisters. It is our duty to do everything in our power to stand up against white supremacy and help reduce their grief.
(Please look up white supremacy if you think this sounds like it's against white people. It's not 🤗 This space is inclusive and EVERYone's grief is welcome here)
-
The full list of reading material from tip 7 can be found on
@jane_mount
's post, but a great place to start is to order or borrow (and donate the money to a black cause):
WHY I'M NO LONGER TALKING TO WHITE PEOPLE ABOUT RACE by
@renieddolodge
&
ME AND WHITE SUPREMACY by
@laylafsaad
-
-
UPDATE on tip number 6: if you go to the streets, please observe Covid protection advice, there's no point in demanding justice if in the process you spread coronavirus which kills Black people at an alarmingly higher rate than other races. It's a difficult balance so do what's most effective but safe in the country that you're in.
-
#grieftips
#grief
#loss
#bereavement
#blacklivesmatter
If we are expecting this labor to be done on our behalf, as if we're entitled to it, or as if our aggrieved feelings reciprocate 400 years of benefitting from systemic oppression: We're not, and they don't.
Since we'll all (people and corporations alike) celebrate Pride this month, it is worth remembering that Pride started as a protest, not a parade, and it was begun by queer and trans people of color, who faced off against the police in a series of riots in response to raids at gay bars, including Stonewall.
Even down to our everyday lives and the way we express ourselves, English-speakers owe Black writers and activists so much. Language — self-expression — is about as commonplace and everyday and universal as it gets, so here is a (partial!) list of words and phrases that are glorious, wise, fun, funny, necessary additions to our language for which we have African American Vernacular English (AAVE) to thank:
Cool

Hella

AF

My bad

#Blessed

Getting dragged

I feel you

Side-eye

Hater

Yas

I'm weak

Rip-off

Salty

Basic

24/7

Straight fire

Turn up

Extra

No shade

High five

Dope

Don't @ me

Straight up

Lame

Lowkey

Go off

Hip

Back in the day
If you've ever used a word on the list (…everyone), please consider: Should we be appropriating AAVE? by Sima Shakeri. It would likely feel impossible to remove a word like "cool" from your vocabulary. And yet.
---
Black writers whose work is wonderful and that I've learned from:
An Antiracist Reading List, by Ibram X. Kendi
White People, I Don't Want You To Understand Me Better, I Want You To Understand Yourselves, by Ijeoma Oluo
It Does Not Matter if You Are Good, by R. Eric Thomas
We Need To Talk About Digital Blackface In Reaction GIFs, by Lauren Michele Jackson
There Seems to be Nothing Our Black Sons and Daughters Can Do To Remain Alive, by Donna F. Edwards
All But Four States Celebrate Juneteenth As A Holiday, by Doug Criss
The Case For Black English, by Vinson Cunningham
And The Pulitzer Prize For Caucasity Goes To…, by Michael Harriot
---
Petitions to sign:
Justice for Big Floyd (currently at 97% of their goal of 3,000,000)
Run With Ahmaud (currently at 96% of their goal of 1,750,000)
Fight for Breonna (no percentage displayed)
---
Places to donate money:
My week will be quiet as I turn inward to read, absorb, listen, reflect, and consider my part in both upholding and dismantling white supremacy. It is not our Black friends' and acquaintances' job to do this work for us. White people, we must do our own work, each of us, individuals. Part of that is having conversations. Not with our grieving Black friends (important that we not lean on our Black friends or acquaintances to help us process the grief and outrage we feel), but with our white friends and family. This is uncomfortable work, in some cases. But do it. White feelings are not more important than black lives.
George Floyd. Breonna Taylor. Ahmaud Arbery. Tamir Rice. Trayvon Martin. Eric Garner. Sandra Bland. Alton Sterling. Philando Castile. Atatiana Jefferson. Botham Jean. Freddie Gray.
And many more whose lives, cut short by racist acts of violence, mattered. Say their names. Say them again.