Everything is completely normal
Email subtitles are working from home this week
IN RESPONSE TO COVID-19, A HEARTFELT MESSAGE FROM YOUR FRIENDS AT FROSTED MINI-WHEATS
I've honestly loved receiving corporate-approved messages from every brand I've ever followed or heard of during the past six days. Pringles wishes you a happy and healthy flu season, everyone! (Full disclosure, I didn't actually hear from Pringles, but I assume it's just a matter of time.) Outback Steakhouse says: Drink plenty of water! And practice good social distancing, from your friends at Jiffy Lube! Nutella is a delight to spread on bread, but also: don't touch your face! Meow Mix: Cats ask for it by name, and secondarily, please check on your immuno-compromised neighbors! Wash your hands and don't taste the rainbow, with Skittles! Trust the Midas touch, a.k.a.: NO TOUCHING. KFC: Technically still finger-lickin' good, but don't do it, no stop, you're gross, that's horrible
NIKE. JUST FLU IT
Ahem.
My newsletter and its associated Brand wants to let you know that social distancing is going extremely great for our household. We're moving past the panicking stage and into the "it's time for us to tackle that home-improvement project we've always wanted to tackle" stage, although technically we are never out of that stage, because part of Grant's and my whole deal as partners is that we constantly dream up never-ending home-improvement projects for ourselves. Still. It might be time to finally replace the blinds in our bedroom that broke 18 months ago. Check back with us in April.
None of the grocery stores have toilet paper, but the joke is on them, because my beloved Dr. Boyfriend collects toilet paper (as well as toothpaste) as a matter of course in our everyday lives, so we are all set. (Ed. note: I don't mean he *actually* hoards toilet paper. He just has an amusing habit of buying four more rolls, and new toothpaste, all the time whether or not we still have a bunch at home.)
I actually spied a few straggling rolls of toilet paper in our local grocery yesterday, and I confidently DID NOT BUY THEM. Let it be known that I was a rebel to the very last. I did not cave to societal pressure to hoard bath products. I WAS MY OWN PERSON!
AND NOW, A SPECIAL ANNOUNCEMENT. A REAL ONE FOR A CHANGE
I referred to him as Dr. Boyfriend in the preceding paragraph, but I probably need to get Grant to legally switch his name to Dr. Fiancé.
We shared on social media over the weekend that we're engaged, which was a move I felt a little weird about, announcing such a happy thing at such an incongruous time, but I figured a) what the hell and b) there might just not be a better moment for this kind of announcement, because it's not like 2020 is showing *any* sign of letting up on the crazy so far. 2018: Nazis! 2019: the earth is drowning! 2020: influenza virus is BACK, baby! But also: the black plague and meteors and Jersey Shore, probably.
I am glad we chose this moment to announce our engagement, though. The response was so sweet, so effusive, so overwhelmingly loving, that I think maybe folks needed a dose of good news and some proof that completely normal things like engagements and social-media bragging are still happening in our society.
It's not all just bathroom-tissue supply-chain freak-outs on THIS internet, friends! I'm still just enough of a basic lady to make you all look at a picture of my ring!
Actually, have you not seen it yet? It's a moonstone! So stylish! It's shiny! 😍
So we changed our status on social media on Saturday, and then immediately started watching Apollo 11, the documentary about the moon-landing hoax (I know I shouldn't be making jokes like that. It's not like I can't help it. I can completely help it) and it was a delightful and accidental bit of symbolism. Moon landing. Moonstone. You know? And it was inspiring to think about the all-out unlikely loveliness of that huge thing humanity did.
And also, the astronauts had to stay in quarantine for a few weeks after they got home just to make sure they hadn't picked up any Moon Diseases. The documentary shows a decidedly salty Neil Armstrong coming out of quarantine basically going, "that part sucked, and I hate you all, but thanks for being here."
It is all highly #relatable.
And as good as it is, the documentary is stressful even though you know what happens in the end.
(Spoilers: Tom Hanks is not in this documentary at ALL.)
So I was watching this movie and mildly stressing about it (they flew all the way to the moon with a rocket that had less computing power than your cell phone, like WHY ON EARTH did anyone think this would work), and thinking about Coronavirus and DEFINITELY stressing about that, and then also, concurrently, getting regular dopamine hits from people congratulating us on our engagement and getting texts and messages from people I haven't talked to in forever, and it was a really weird mix of feelings.
We got engaged a couple months ago (December 30th, the same day I launched True Stories About Extraordinary People, so it was all in all a pretty good day), but had decided to call people or tell them in person where we could, and then a few weeks passed and we still hadn't put anything out on social media, and then I guess I was sort of enjoying having a secret thing for just ourselves, like, who is it who decided these things aren't real until they hit social accounts?, and then it had gone on for so long that it felt awkward to say anything, and then the Coronavirus hit and everything was in total confusion and chaos, and then, apparently, I was like ALL RIGHT FINALLY HERE IS MY MOMENT.
DEADLY WORLDWIDE PANDEMICS ARE NOT
*ALL*
BAD
Coronavirus is good for some things as well, you know! For instance, my Dungeons and Dragons crew is having to figure out how to play together remotely in this era of social distancing, which means that my pal Dean, who lives in Virginia, and I will get to game together this weekend for the first time in our 30-ish year friendship.
Plus, did you see how my pal Pearce got retweeted by, literally, Science?
A couple of artists I like are doing free livestream concerts in the next couple of days, which is about the most generous and wonderful thing imaginable. Rhett Miller is performing Wednesday at 9 p.m. Eastern, and Indigo Girls are performing Thursday at 7 p.m. Eastern). Or if you wanna get in on this right away, like, in the next three minutes, Choir! Choir! Choir! is also doing a thing at 8 p.m. EDT today.
All joking aside: there's no real upside to this time. Certainly not yet. I spoke to a friend earlier today who just flew from Paris to Algiers, and he said in Paris, people are being fined if they want to leave their homes, and if they have an emergency where they HAVE to leave, they have to fill out an online form first about their errand. Meanwhile, in the Algiers airport, he said it's like there's no pandemic even happening.
It's all confusing, and scary, and although I'm so happy everyone in the U.S. and Canada is taking it so seriously, it's wild to be living through a time of such direct uncertainty (after years of many different varieties of uncertainty). There's no neat bow to put on this yet. This helpful article from the New York Times illustrates the precise degree of risk every profession carries, and general practitioner is second only to, like, dental hygienist. But though I'm worried for us all, I will say that I enjoy seeing how everyone is coming together to protect each other and lift each other up. That part's beautiful.
My dog says there is nothing whatsoever to worry about, by the way. His green ball is present and accounted for, and literally there is no other possible stress in this world.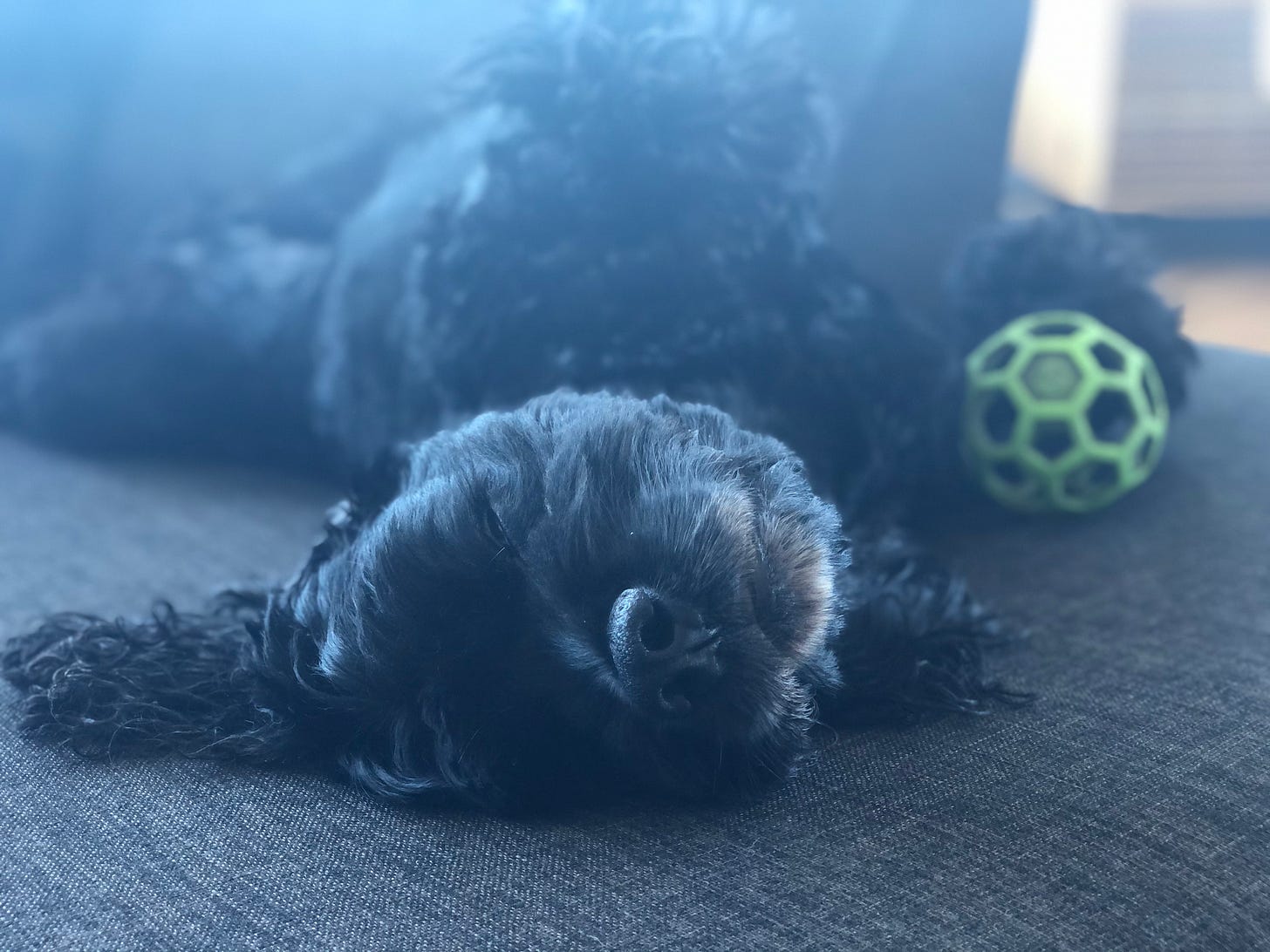 AND NOW, MANY LINKS TO TAKE YOUR MIND OFF THE BADNESS
Overwhelmed by too many things? Here's your pal the Mourning Dove one more time.
Take good care of yourselves, friends.