I made a crazy thing, and I'm so happy!
End of year, end of decade, time to get real
Oh hello!
I'm on a BC gulf-island ferry right now, headed to Salt Spring Island for New Years Eve with Grant and Woodrow, and the captain just came over the loudspeaker to announce that there's a pod of killer whales outside on the right side of the ferry. (In the water. They're not like, smoking on the 4th-floor passenger deck, or anything.)
Everyone else fled the scene in the space of about 15 seconds  to go look at the whales. I've never seen a group of ferry passengers move so fast. I doubt that they would go so quickly if there was some kind of actual emergency. It was like a road runner cartoon where you look up and all you see are white flee-streaks.
Me, I am *very dedicated to doing my newsletter* so I stayed inside. Alone. For you.
(also because it's super cold out there, probably)
So hey, HAPPY NEW YEAR, right? 2020! It's gonna be great! Brand new year! Brand new decade! Brand new opportunities to –
Oh no: Everyone just came back in gushing about the whales. "There were about eight of them! Whoa, they were huge!" "Plus there was a little baby one, too!" "That was amazing!"
Kind of regretting not going to look at the whales now. At least I was able to snap this photo of the totally empty ferry cabin for you.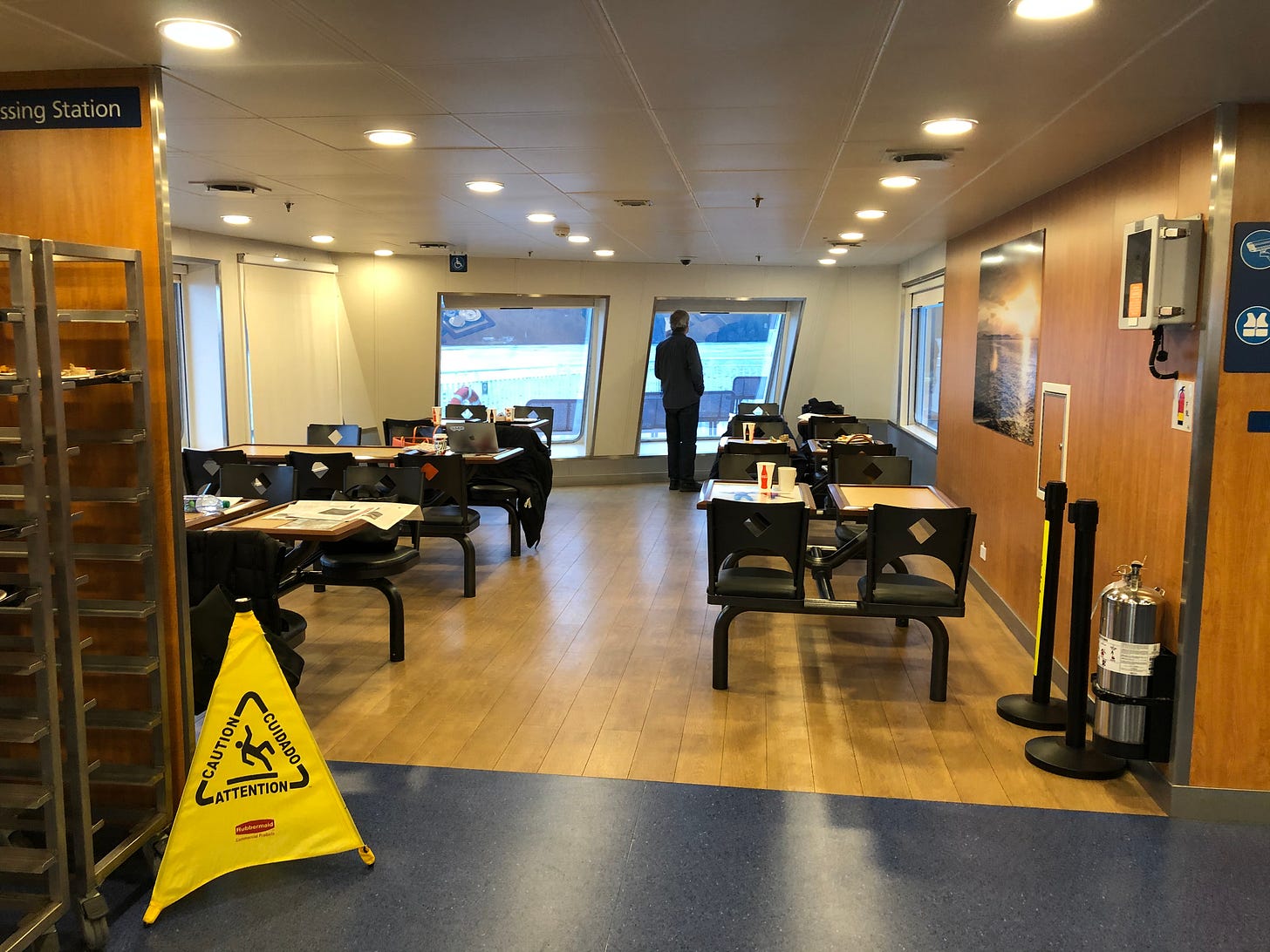 Me and this dude, we DO NOT EVEN GIVE A F
SO THIS THING I MADE….
At the beginning of 2019, I made a list of twelve goals I wanted to accomplish this year, pegged to specific months. Learn Clair de Lune by May, finish the first draft of my first novel by June, sort all my photos into albums in February, paint a mural by July (okay, October), begin querying literary agents in November.
Around the beginning of November, I realized I was going to hit all but one of the goals.
The only one I wasn't going to check off was goal of writing 40 new blog entries.
And I thought: Oh well. Eleven out of twelve goals is good. I'm happy with eleven goals.
Spoilers: I was not happy. I wanted to run the table.
Leo Tolstoy has a quote: "There is only one time that is important: now. It is the only time we have any power."
I knew that, in order to write 30 blog entries in a month and a half, I would need to write about something I really cared about so that I'd be properly motivated to get it done.
I had conducted some student interviews earlier this year, and it struck me that, even with these folks' comparably little life experience (most are in their early 20s), in almost every case, they had an interesting story to share and a perspective I hadn't considered.
I started to think about other people I know who aren't in their early 20s. People who've been doing really interesting things for 10, 15, 20, 40 years.
And I hit on this idea: It would be amazing to interview a lot of friends from different industries, and different cities, and different backgrounds, and find out what they've learned so far, and present all of that as a big, end-of-decade brain hug.
It's the end of a decade—and it has been a decade y'all—and it felt like the perfect time for something like this.
INTERLUDE: MORE WHALES JUST CAME BY, ON MY SIDE OF THE BOAT THIS TIME, SO THAT'S FINE
I need to also tell you that this project could not have happened without my Quupe cofounder and literal genius, Zeeshan. He created this gorgeous website to host all my stories. (Him: "Medium is a horrible platform. You shouldn't use it. Here, hand me your computer." Me: "Okay!")
It also wouldn't have happened without Grant, who provided moral support in the moments, and there were many of them, where I was like "I'LL NEVER FINISH THIS" or "wait, what am I doing again?"
This was so meaningful to work on. I've been feeling the sting of disconnection as social media platforms have started to feel more soulless and unfulfilling over time. I realize that the likes and even the comments are no replacement for genuine, face-to-face connection with people I love, some of whom are really far away. While the platforms are great for keeping vaguely up with photos of new babies, new houses, vacations, and pets (SIDE NOTE PLEASE SEND MORE PHOTOS OF YOUR PETS), they're not so great for knowing what's really going on with anyone I care about.
The chance to reconnect with 31 people, most of whom don't live in Vancouver and some of whom I hadn't spoken to in years, was an extraordinary honor and a privilege.
I recommend it to all.
Many folks trusted me with some deeply personal stories about themselves. And I hope you enjoy reading them as much as I enjoyed writing them. I am so happy to share this.
SO MUCH PREAMBLE! GOD!!!  HERE IS THE PROJECT ALREADY!
---
FOR THOSE INTERESTED IN GOAL-SETTING, SINCE IT'S ALMOST JANUARY 1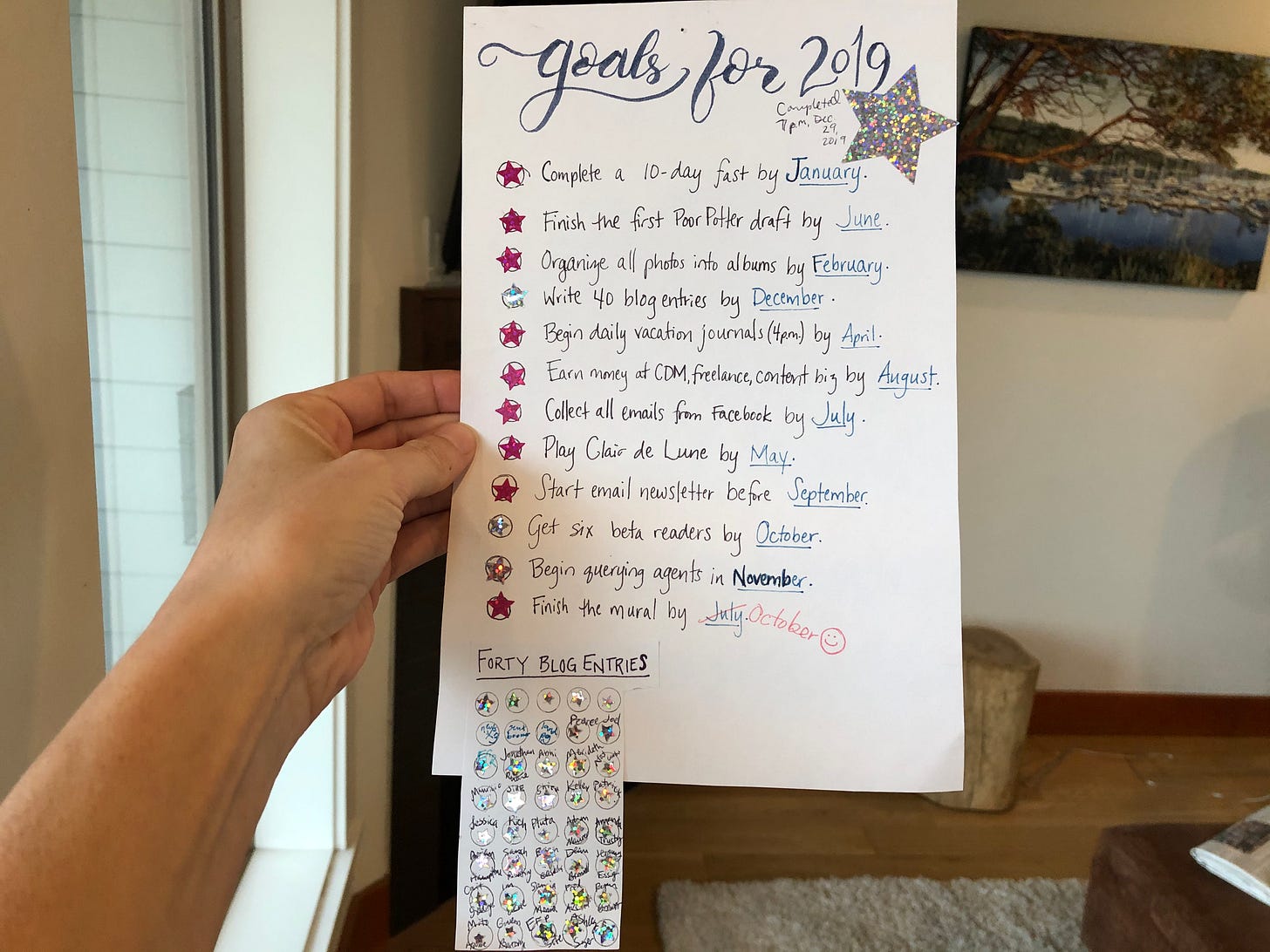 Here's a dirty secret about my goal-setting document: I didn't make it until mid-February. And at that time, I had already accomplished the first two things on my list, so I got to put two stars up right away. I highly, highly recommend this approach. If you do decide write goals out now, make sure the first couple you're going to tackle are things you KNOW you can hit. Or just wait until February and write in two things you did in the first two months of the year.
Don't skip on doing the stars (they might feel silly but they are in fact highly motivating), and don't skip on setting time pegs for yourself: write the month you'll accomplish it. Hang your goals up at your desk, or somewhere else you'll look at it every day. And watch yourself do all of it.
AND FINALLY, A BOLD CLAIM TO ROUND OUT THE DECADE
I woke up with an uncomfortable realization a few days ago.
When I first saw The Birdcage, I thought the house above the club was sort of fancy. Like, I understood it was campy and kitschy, but I thought it was supposed to be a display of supreme wealth along with the camp. But if you compare that to, say, Elliot Gould's house in Ocean's Eleven? It's also camp, but more obviously speaks to ostentatious wealth, and some sort of interior design guidance. The Birdcage house looks super cheap and gaudy by comparison, but I only can tell this in retrospect. At the time, I really thought they probably paid a lot for that tropical wallpaper, and, now, well, who knows, maybe they did. What movie star was it who said "It costs a lot of money to look this cheap?" I'd google it, but I'm on a roll, here.
Is this disparity actually a commentary on real estate prices in Miami vs. Las Vegas?
Is it a feminist power play since the *true* display of wealth and power in the Birdcage sphere is not Gene Hackman but Christine Baranski?
And most importantly, was Elliot Gould the first zaddy?
(Answer: yes, definitely, if you want to be courageous with your opinions for one goddamned second.)
Is it wrong that I secretly believe and hope that The Birdcage and Ocean's Eleven occur in the same universe and that the characters may eventually sync up and battle bad guys together? I'd like to see Andy Garcia and Dianne Wiest beat someone up together. I really would. Anyway, follow me if you'd like more hot takes on movies from 20 years ago, and message me if you'd like another 45,000 words of fan fiction/analysis about this (I don't have it done yet, but feel like I could write it up inside of a week, probably.)
ACTUALLY, A LIFE DECISION: Going forward, whenever I notice myself doing any pointless self-recrimination, I'm going to immediately replace these thoughts with elaborate daydreams and internal vision-boarding about Dianne Wiest and Andy Garcia beating up Donald Trump in an MMA-style fighting ring. I don't even know what MMA is, but I am looking very forward to my brain creating a lot of amazing content around this in 2020. Chrissy Teigen may also tag in from time to time. She wasn't in either of those movies, but my subconscious will allow it. I hope she pulls his hair. ok namaste
By the way, I asked my friend Mike Raymond, who is my go-to expert on zaddy-dom, if he wanted to provide any counterpoint to the Elliott Gould argument before I put it out there, and he replied:
"No counterpoint."
And I clarified:
"The zaddy form having, obviously, become perfected over time. Sort of like how when you look at a daguerreotype now, it obviously sucks in comparison with pictures."
"Yup. You're correct. And you can quote me."
WHEN I TELL YOU I HAVE NEVER FELT SO VALIDATED.
Perhaps you forgot.
SOME RANDOM STORIES I'VE ENJOYED THIS MONTH
Why people hold hands:
Octopi (or their extremely, solidly, way-better name, octopodes) sleep and are supposed, by some, to change color when they dream:
🧬🐙 Ever seen a sleeping octopus? Sleeping octopuses cycle between different colors and cycles, which has lead some scientest to believe that octopuses experience REM sleep/dream. While they rest, neuronal changes can be seen in their optic lobe activating chromatophores (pigment-containing cells), causing the changes in color and patterns. There is no confirmed evidence that octopuses dream, but it is pretty cool to see their involuntary colour spasms. What do you think they dream of?
credit: PBS/Octopus: Making Contact on Nature
Chaos at the top of the world on Everest: https://www.gq.com/story/mount-everest-chaos-at-the-top-of-the-world
And a deeply sweet, almost saccharine, but well-composed Christmas story about a kid who wanted peaches:
Enjoy many, many stories, and happy new decade!