The year that is not that easy
content warning: death, politics, Spotify
Well, so first let me say the thing I hate the most first. My beloved dad, Hugh Rogers ("don't call him Roger!") Hamilton has died.
Rogers died on August 13th, 2020, after a tornado-short couple months of illness, and a mere sixteen days after his diagnosis with stage IV lung cancer. I went on hiatus from writing this newsletter for a bit, because there was no funny in me to access.
But I did keep thinking about it. I said to myself, "I really need to go write something about my dad," and then, "Nooooo, I don't want to," and then, "Go honor the man's memory, he only gave you everything including free, although unwilling, rein over the thermostat," and then "THERE'S NO WAY TO WRITE ALL OF IT, IT'S TOO HARD," and now here we are, somehow, at October.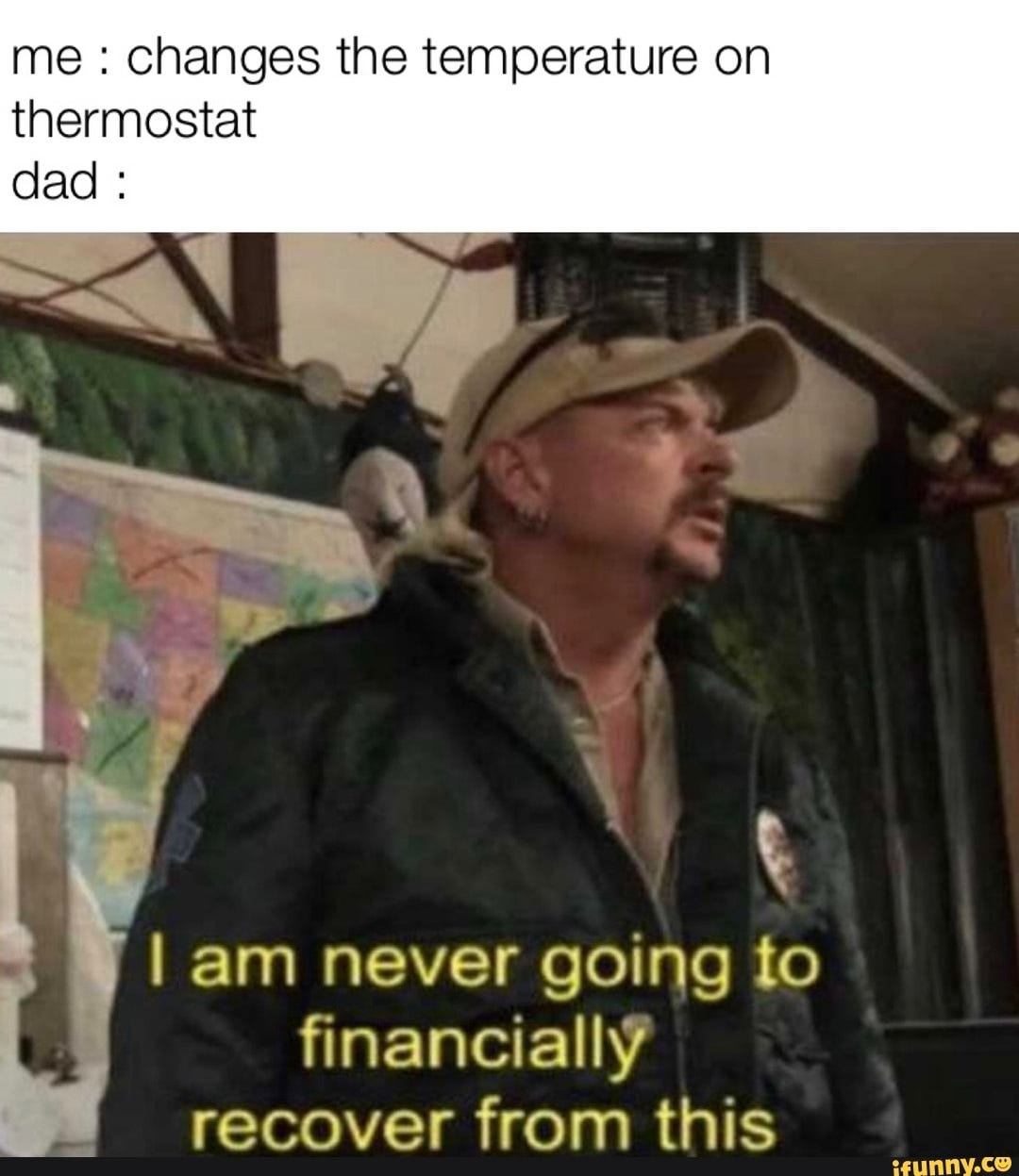 So. My dad did not have Covid.
But Covid — or more specifically our trash president and Florida's trash governor's handling of Covid — certainly affected his care.
Several of his procedures got rescheduled due to staffing shortages, due to a 91% capacity at the ICU at the time he was in the hospital and so, long story short, Republican politicians are all criminal incompetents who do not care about the welfare of LITERALLY ANYONE and I truly, truly hope they all fall down a well.
Around the time of my dad's fifth day in the hospital waiting on a diagnostic procedure that seemed destined to never happen, I got so mad all over again at everyone who voted for President Trump, their refusal to ever disavow that racist criminal, and everyone who said their vote wasn't personal, and everyone who said we should calm down because it wouldn't be as bad as all that, because just give him a chance.
I got so mad about all this that I briefly turned into an Actual Volcano and sprayed a bunch of boiling hot magma everywhere and then I felt better, but I was and am still a volcano who is very mad at Trump voters. Apocalyptic chaos but make it never-ending, you know?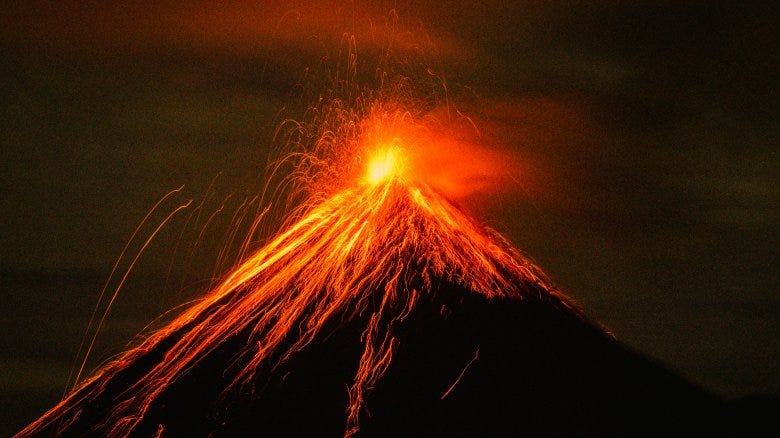 By the way, I included a factual error up there. I've learned (research!) that magma is the word for molten rock when it's underground, while lava is the word for when it's above-ground. Magma is the funnier word, though, so I am going to stand by this. Hey, like, who is the literal volcano around here, you or me? I THINK I KNOW WHAT I SPRAYED.
(I write so many great t-shirt slogans on this newsletter. I don't know why no one's contacted me for a licensing deal yet.)
Here's the good news. My dad didn't have to suffer long. His diagnosis came two weeks before his death, and while that timing was brutal because it felt, and still feels, like someone just reached down and snapped him out of existence, I am also grateful. He wouldn't have wanted, wouldn't have fared well with, a long-term diagnosis.
I'm glad he went on his own terms, at home, and peacefully.
Grant and I got to spend what ended up being his final week with him and my mom, and the week included sadness, beauty, terror, some funny moments, singing, love, and banana bread. I'm so grateful we had that time, so grateful I got to hug him again, hold his hand, and say goodbye.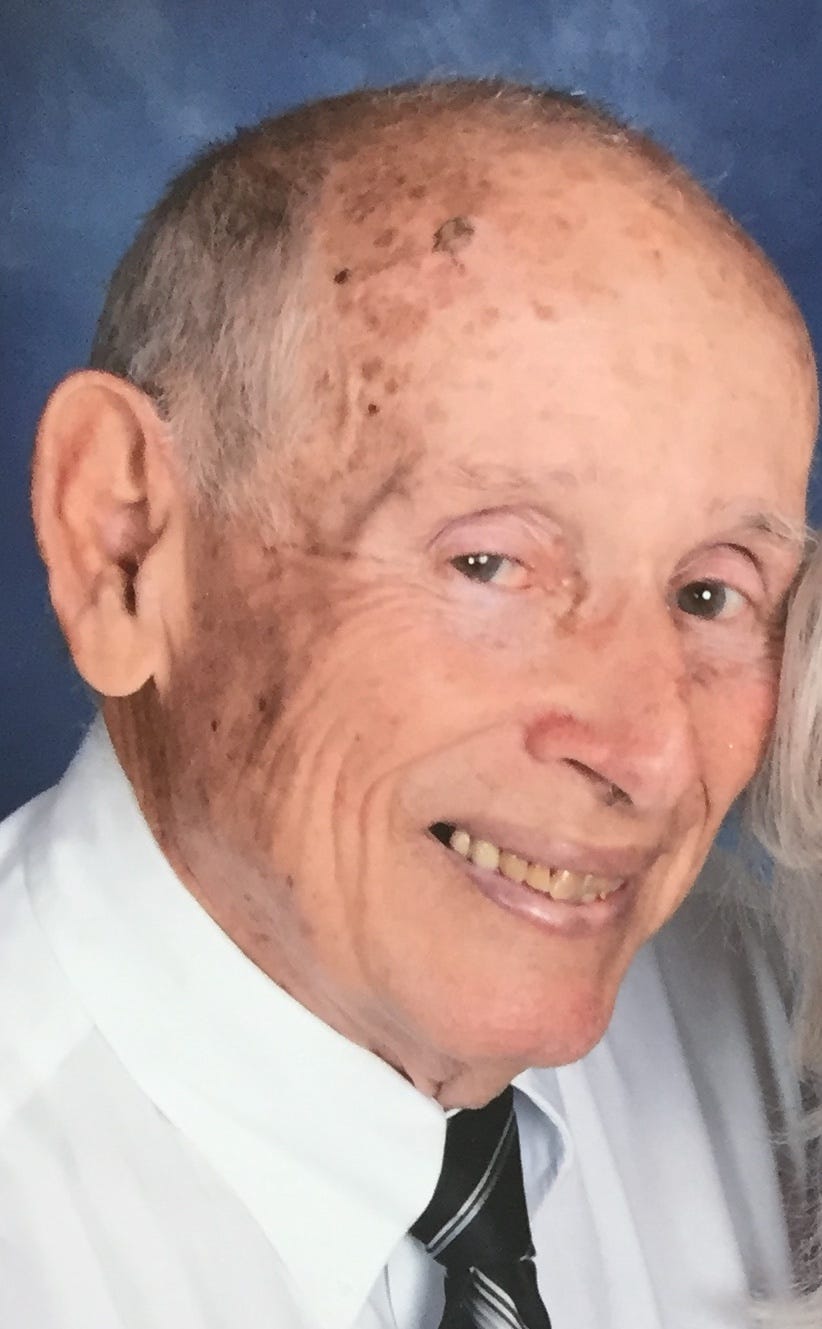 Here is his obituary, where you can read about the night Rogers spent in a New York City jail, or why he never shot a gun after age seven.
I keep remembering sweet and silly stories from his life, such as: the time he took me and my cousin B.J. and my grandmother out to a fancy restaurant for my grandmother's birthday in 1993. I think it was just the four of us, which wasn't a regular occurrence, and I don't know where everyone else was, but I remember the menu was fancy and inscrutable and I got to order my own appetizer, and so I picked something with at least one ingredient I'd heard of: "steak tartare."
I thought it sounded great. Sliced steak with like a nice mustard sauce, probably! yum!
I didn't know what tartare meant, but I likely figured it was French for "delicious." (Dearest Teenage Angela: you were not wrong.)
When it came out — when I spied slimy strips of uncooked meat squirming all over my plate — I stared down in dismay, feeling something had gone horribly wrong here, but not sure what or how or who.
And I felt very guilty, because although I was not going to eat this, I had ordered it. Also, it was my first time in a restaurant this fancy, and I didn't know much, but I did know I couldn't flip the table and run.
My dad was grinning at me, though, so then I felt okay about absolutely not touching this erughhhghhhhh what the hell.
He tried a bite or two of it, and my grandmother did too, but my first-ever order of steak tartare went otherwise laughingly unconsumed.
Later, once I got over the initial embarrassment, I asked my dad why he had let me order that if he knew full-well — and he did — that I wasn't going to eat it.
He said, "I just really wanted to see the look on your face. It was worth it."
I will love and miss my funny, brilliant, subversive, doing-what-he-wants-at-all-times dad forever and ever and ever and ever.
HOW TO GRIEVE DURING COVID
So look I've really wanted to say something about how to access grief during this bizarre and unprecedented time. I'm far from a grief expert — although, am I? Maybe I *am* now a grief expert. Who can say. I'm happy to call myself a grief expert. I'm writing it down over and over on my newsletter, so that has to count for something. I mean, really, what even is a grief expert, anyway? Just someone who accidentally watches a movie that reminds her exactly of her dad and grandfather and then sobs out all of the Big Blackfoot River onto the floor of her office? If so then congratulations to me for I am a grief expert.
As a certified grief expert™, I'd like to share, and this is in earnest now, some of the things that have helped me to process during this weird and awful time. Friends keep saying to me that there's never a good time to lose a parent, but that this is an especially brutal time for it. I agree with that. We can't access the usual things that would ordinarily help in grief, like funerals or wakes or loud fights with surviving relatives about things that don't matter, like which bowl to put the mashed potatoes in.
Community is important.
But here are some worthy things to do in the absence of it.
Finstagram. When we learned my dad's diagnosis, and Grant and I began making plans to travel to Florida during the height of the pandemic (after which we knew we'd be under strict home quarantine for two weeks), I knew something personally historic and perhaps universally historic was about to go down, so I set up an anonymous Instagram account to capture all this as it happened. I invited a very very few close friends to follow the account, mostly so I wouldn't be yelling "LOOK HOW EMPTY THIS AIRPORT IS" or "I AM VERY SAD" just at myself. I made videos because I knew I wouldn't have writing bandwidth. It helped. If you're not sure who to include on such a journey, pick the people who would be texting you constantly for updates anyway. This is not content you would want out there for general public consumption, for obvious reasons, but it is helpful to use social media to gather your closest pals around you for support during such a hard time. Because I am 43 and not 16, I only learned later that secret, low-follower Instagram accounts are called finstas. It stands for Fake Instagram, which is weird because it is actually the realest and least-edited version of yourself, but such is the topsy-turvy social media world we now inhabit.

Paper funeral. There were so many people who helped us or who reached out to me with beautiful remembrances about my dad. I wanted a concrete physical object reminding me of the great life he lived and the people who loved him, so I spent the first week after his death meditatively hand-printing every single one of those names — 410 names, all in — on a large piece of cardstock, which now hangs over my desk. This helped, too.

Life altar. I started finding things that reminded me of my dad in the weeks after his death. Grant and I undertook a month of minimalism in September, and as I was going through things stashed and forgotten in cupboards, Dad-Objects kept springing out. A carved dolphin my grandfather made. An empty bottle of Dom Perignon we split during their visit to Vancouver in 2016 because my dad had always wanted to try it. A book his lifelong friend Eddie gave him when they were 12. I moved all these things onto a small table in my study, along with some photos and crystals, and it is a beautiful reminder of my dad's life.

Elaborate self-care. I started doing a morning skincare routine (oil, cleanser, exfoliator, toner, second toner, moisturizer, second moisturizer) every morning as soon as we got back from Florida. This wasn't a conscious choice, just a thing I started doing concurrently. It's become a fundamental piece of my day, and I don't know why it's come to occupy such a place of importance. But I can tell you it feels nice to start the day on an intentional ritual meant to self-soothe, and which forces me to look in the mirror and show myself love. Losing someone you love sucks. Do something to be luxuriously kind to yourself.

Physically processing anger. My therapist explained I have a right to feel angry. She's taught me to tear up paper or tie my hair back and beat the couch with a pillow when I need to. I didn't cry in the first few weeks (normal! all normal!), and even though I knew logically that this was nothing to worry about, I still wondered what my deal was. In my normal, non-grieving life, I cry easily, and at very little impetus. I sometimes cry even thinking about a poignant scene in a beloved movie. But physically releasing some anger also unlocked some tears, and I was, paradoxically, happy to have them.
---
I wanted to post about this serious topic because: We are all grieving. I'm in awe of it, in the most literal way.
I know so many people who have been affected by a ground-shaking personal tragedy in the past eight months.
So many dads, moms, brothers, sisters, spouses, and even children lost.
In just the past week alone, I've learned of three new mournful absences. A friend whose sister died. A long-time family friend who passed away much too young while his wife was out buying him some watermelon. And just days ago, the father of one of my long-time best friends.
I feel very keenly all of a sudden that childhood is really really over. And time is short. It seems like just yesterday, etc. etc.
Every year on December 31st, there are people who say things like "so glad this awful year is over."
Like, maybe in 2019 or 2018 or 2017 there was a divorce, a death, a business failure. But this year, 2020, every single one of us is affected (we all lost Ginsburg, if nothing else), and some are affected brutally.
And it's not over yet, of course.
---
The long-term effects of all this grief across an entire generation of people.
Period, full stop. I don't have a predicate for that sentence. I can't, because there's no knowing what it'll be like.
We've never lived through anything like it. The only thing comparable was the AIDS crisis, which has killed 700,000 people in the U.S. since it first appeared in 1960, which is 60 years ago, or about 700 months.
Covid has killed 217,000 Americans in seven months.
And there are an unquantifiable other number of Americans who, like my dad, didn't die from Covid, but whose end-of-life journey was affected (or even expedited) by Covid.
Anyway, I know we're all living this reality constantly and thus couldn't possibly forget it, but I feel like it's useful to name it from time to time, to remember:
We really are experiencing unprecedented levels of collective personal tragedy.
Hey, but maybe it'll unify us.
Or maybe, later on, when future generations ask us to describe what the year 2020 was like, we'll be like, "well, Jim, [climbs tree to get out of the conversation]."
Alternatively, we could just show them this Spotify playlist Grant and I made a few weeks ago to describe the 2020 journey to date. With such hits as Something In The Air, Toxic, Get Back, Adventures in Solitude, It's the End of the World As We Know It, Hell, It's Everywhere, Why, Cut Your Hair, and Wake Me Up When September Ends.
Enjoy! (Maybe!)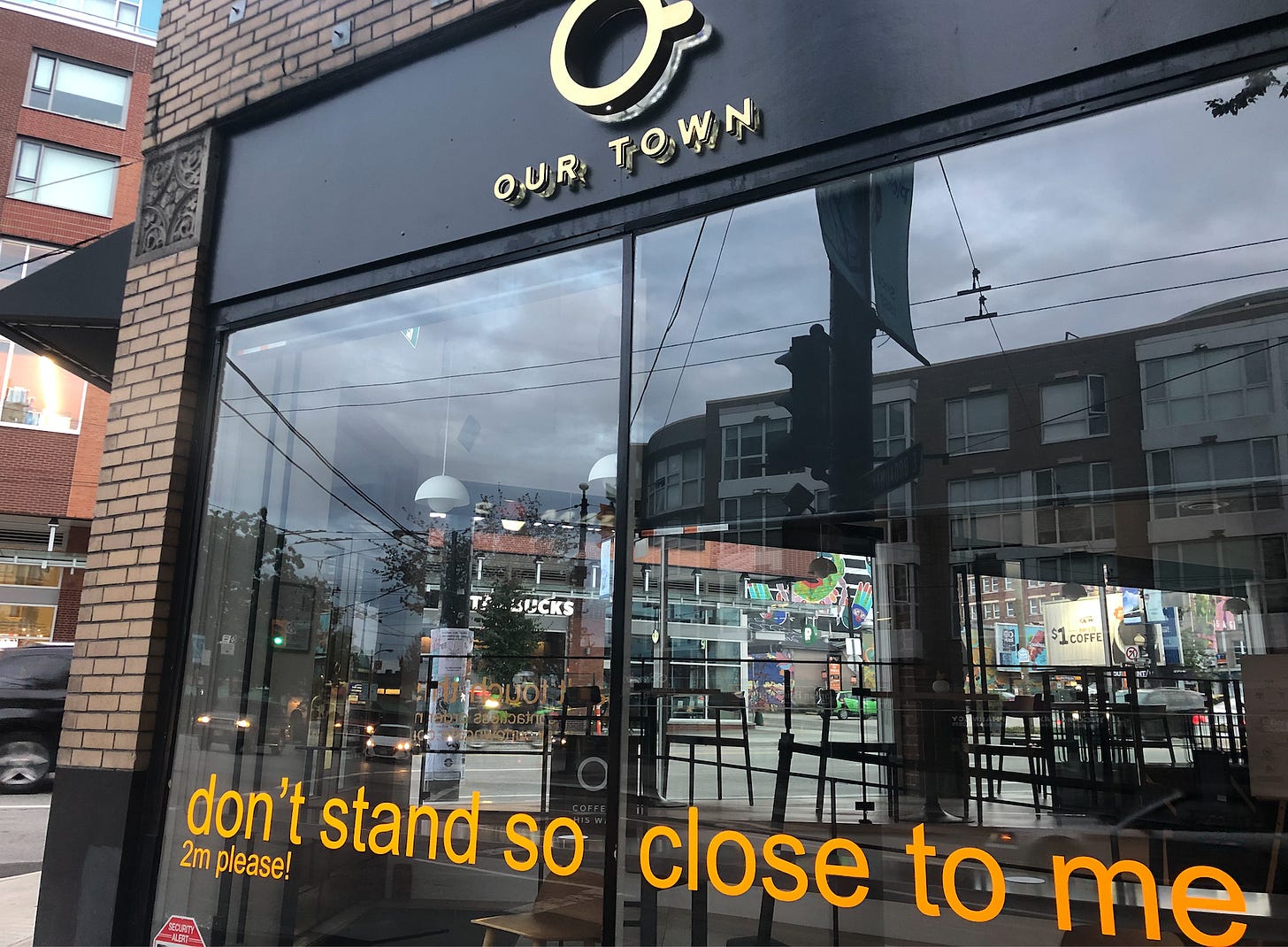 HOW I REALLY THINK THE COUNTRY IS GOING: [EXPLOSION NOISE]
Finally, last week, I got to participate in my first-ever electoral opinion poll, where someone calls you to ask you your preferences, how likely you are to vote for whom, what you think of certain candidates, and so on.
I'm, as of right now, one of those people whose views are represented, probably, over on fivethirtyeight! This is a first for me, and it's exhilarating. Really hope it doesn't go to my head. Biden only had an 86% chance of winning the election last week, and today it's at 87%.
I am not saying I personally caused this to happen, but I'm also not saying I didn't, you know?
The poll I was given was specific to South Carolina, so I assume the survey was paid for by either the Graham campaign or the Harrison campaign so they can ascertain wtf is happening with this unexpectedly close race.
POLL WORKER
Would you say you are "satisfied" or "dissatisfied" with the way the country is going?

ME
"Dissatisfied."

POLL WORKER
Would you say you are "somewhat dissatisfied" or "very dissatisfied"?

ME
(trying not to shout into the phone because that is rude)
"VERY DISSATISFIED."

POLL WORKER
"Very dissatisfied," okay. Next question —

ME
Hold on, can we go back? Do you have an option beyond "very dissatisfied"?  Like, "extremely dissatisfied" or "unquantifiably dissatisfied" or "heat-death-of-the-universe-is-about-to-occur-in-my-poor-overtaxed-brain dissatisfied"?

POLL WORKER
. . . no?

ME
Okay. Then "very dissatisfied" is fine.
---
POLL WORKER
"100 percent unlikely" isn't one of the options. Would you say you are —

ME
"Very unlikely" to vote for Lindsey Graham, yes.
---
POLL WORKER
Once again, I don't have an option here for "Lindsey Graham is probably a vampire and has obviously made some sort of dark bargain with the devil."

ME
Okay.

POLL WORKER
So would you say you're "dissatisfied" or —

ME
"Very dissatisfied."
---
ME
I've — you know, I've never heard of Bill Bledsoe, I don't think.

POLL WORKER
Okay, well—

ME
Could you possibly just put down "very dissatisfied with Lindsey Graham" again, instead?
---
POLL WORKER
How much media have you been exposed to from Jaime Harrison?

ME
Oh, a lot. Well, um, I mean, I see him everywhere right now. But I follow him on Instagram and Twitter and all. I mean, I sought him out. I sought out someone who could beat Lindsey Graham after his big "Boy, Y'all Want Power" monologue at the Kavanaugh hearings, if you remember that. 'Cause I mean I'd disliked Graham long before that, but I think that was really the moment something in me just snapped.

POLL WORKER
I'll just put down "very exposed."

ME
Okay.
---
POLL WORKER
Angela, I have to be honest with you.

ME
Sure.

POLL WORKER
"I hope they all trip and fall down a well immediately" is also not one of the options.

ME
Okay. "Very unlikely," but y'all should really update your survey.
---
Democracy is terrific. I hope we get to keep it.

Speaking of which: Everyone GO VOTE. Don't believe the polls. Don't trust that the Trump regime won't try to cheat their way to a win. They will try, so our numbers must crush him OVERWHELMINGLY. It's not enough just to win, which Biden definitely will do — his chances of winning the popular vote are now at NINETY-FIVE PERCENT — but we must win decisively.
Trump is, obviously, a historically unpopular president, because of all the, you know, crime and violence and incompetence and threats to our democracy. And the malingering! Let us not forget the malingering! But our system is broken, and it's being run by a criminal, so we have to actually vaporize him in the election to have any chance of him actually going away. Go vote. Make a plan and vote, vote, vote like your life depends on it, since it really might.

Wash your hands, wear your mask, hug your dog, and vote!