Vol. 1: A Very Spooky Holiday Newsletter
Insert your own Halloween puns here
I'm lying in bed very early this morning in the semi-darkness. I've awakened thirty seconds before, Grant's next to me, and Woodrow was at the "foot of the bed," which in our household means "sprawled out across the bed's entire northeast-facing quadrant like a butterflied game bird."
I start Tetris-ing myself around so as not to a) disturb the dog (WHY) or b) wake Grant up.
I manage to flip myself over without doing either of those things, and now Grant and I are lying face to face.
You know how sometimes, the light and your brain plays tricks on you, and you think you can see something but cannot really see it? Well, that happens to me here, and even though Grant is still asleep, my brain convinces itself that his eyes are open and sort of, uh, rolling around in his head.
Now.
I have a touch of the ol' tornado brain, which is my adorable, disempowering name for my anxiety, and I was really hoping I had made that up myself and didn't hear it somewhere else, but to be certain, I just Googled "tornado brain" and yes! The entire first page of results is for something called "Tornado Brain" by Beaver Sheppard, which although I haven't listened to it, appears to be a highly rated piece of German electronica. You know, if you're into that sort of thing.
(There's also a dance remix!)
I feel satisfied that I did independently arrive at the "tornado brain" concept, since there is no way I have ever listened to an artist named Beaver, because I would remember something that awesome.
Anyway.
Okay, I just relented and listened to a few seconds of Tornado Brain on Spotify. It seems like a good song, but I am not in the mood for it.
(Am I ever going to be in the mood for German electronica, though?)
(Nothing against Beaver Sheppard, obviously, it's just that a person doesn't make the jump from "Indigo Girls superfan" to "German electronica enthusiast" overnight.)
(I just googled him! He's from Montreal and is also a painter and a chef. RAD. Did I just accidentally become a Beaver Sheppard fan in the dumbest way possible? Pretty sure.)
(2019's wild, y'all!)
Okay, now really: ANYWAY. We're back in bed, with Grant and the semidarkness and me seeing things that aren't there, namely, him lying in bed next to me appearing to be asleep but also appearing to roll his eyes around in his head Linda Blair-style. Remember?
I rapidly cruise through the following thought progression:
Grant's asleep.

Is he? Or is he possessed by a low-level demon?

Is this how The Exorcist started?

I regret being too scared to ever watch that movie, as I could've used some direction or guidance right now.

He's not actually possessed. Look, he's just sleeping.

WAIT, IS HE?

Right there. I DEFINITELY probably saw his eyes move. Okay, The Exorcist. Right. What are you supposed to do first?

Should I grab Woodrow and run? No, impossible. My legs'll get tangled in the sheets, for one thing.

Plus, I'm not wearing pants.

Where would I go? Who would I call?

This is ridiculous.

Ugh. I don't know what to do in the case of even a mild demonic possession.

It's becoming clear to me that I need a better plan in place for household emergencies.

There's a fire extinguisher in the hallway; would that help?

I'll have to Google 'fire extinguisher exorcism' later.

Grant will definitely not immediately thank me if I spray him with a fire extinguisher, but he'll probably be grateful a few seconds later, after I explain everything.

This kind of thing was easier when I lived in Savannah.

Savannahians dispense near-constant advice about what to do in ghost-esque situations.

Vancouver is very nice and all, but it just doesn't prepare you for the hard realities of life, such as waking up and becoming convinced that your sleeping boyfriend is possessed by a demon.

I should contact my member of parliament. They were helpful with that strata-bylaw-interpretation issue a few weeks ago.
---
And so: now you understand a bit about what I mean by "Tornado Brain" (along with "Tornado Brain dance remix").
Those thoughts all came flooding in in about 15 seconds, after which I woke up fully and could see that it wasn't demonic possession at all, but just the fun way my brain chose to wake me up this morning.
"IT'S LIKE
GONE WITH THE WIND
ON MESCALINE"
But the point about Savannah is a good one. I picked up lots of superstitions about the local entities while I was there, along with very specific instructions for what to do about each.
Have y'all heard of the boo hag? I learned about her from Savannahians and South Carolinians who did not quite take her seriously but who also sort of very definitely took her seriously, because you do not want to chance it with a boo hag.
I researched it just now, and it turns out there is not just one boo hag, but many, and now I don't know whether the proper collective noun is boo hags or boos hag. "Boo hags" seems likelier, but "boos hag" is obviously so much more awesome. Can't believe this isn't covered in the AP Stylebook.

To the old journalism trick: Write around it.
The boo hag is an OCD spirit (really: this is how it was first described to me), and if one gets you, the Bad Stuff is very bad indeed: She sits on your chest while you're sleeping to paralyze you, then steals your skin and flies around with it all night, and you wake up exhausted.
ACTION ITEM: Next time you're too tired to go into work, try telling your boss about the boo hag and see if they'll grant you extra vacation time for emotional distress. (If that doesn't work, you could always dress up as the boo hag for Halloween and cause some emotional distress.)
You can distract a boo hag by leaving something in your bedroom that she'll have to sit and obsessively count. A broom would work, or scattering salt across doorjambs or window thresholds. The boo hag will spend all night counting broom fibers or individual salt grains and keep getting distracted and having to start over and so, would not have time to steal your skin and cruise around the Lowcountry and back before morning.
I love how legitimately frightening the boo hag is, and I also very much appreciate the thoroughness of the remedy.
Here's another video featuring the Old City Jail in Charleston, which is one of the most haunted buildings in the U.S.
I first heard about Lavinia Fisher, who was housed in that jail for a time, during a ghost tour in Charleston in 2011, after which I didn't sleep for, oh, a year or two. Fisher, known as the first female serial killer in the U.S., allegedly incapacitated her victims with poisoned tea and then lured them into an upstairs bedroom featuring a trick bed that she could tip people out of, through a trapdoor and into a pit in her basement, where they would be trapped and possibly impaled on stakes.
Key quote: "She returned with tea and good news." Y'ALL.
They finally caught her because one of her victims didn't like tea but was too polite to refuse the cup, so instead he poured it into a potted plant when she wasn't looking.
(The story is unclear about what happened to the potted plant. I like to think it pulled through.)
I do feel a special fondness for the boo hag, though, since her effects seem to describe sleep paralysis, which has happened to me intermittently since I was a teenager. Or maybe it's always been the boo hag. I grew up in southeastern Virginia; we're pretty close to their territory.
Important to note: the boo hag legend comes from the Lowcountry's Gullah-Geechee culture and I, as a white lady, have no claim to it. The folks who passed down these traditions did it for good reason, and I'm not here to interpret, but to witness and appreciate. 'Tis the season for scary stories, and that's one of my favorites.
And speaking of 'tis the season…
LIFE IS BEAUTIFUL WITH JONATHAN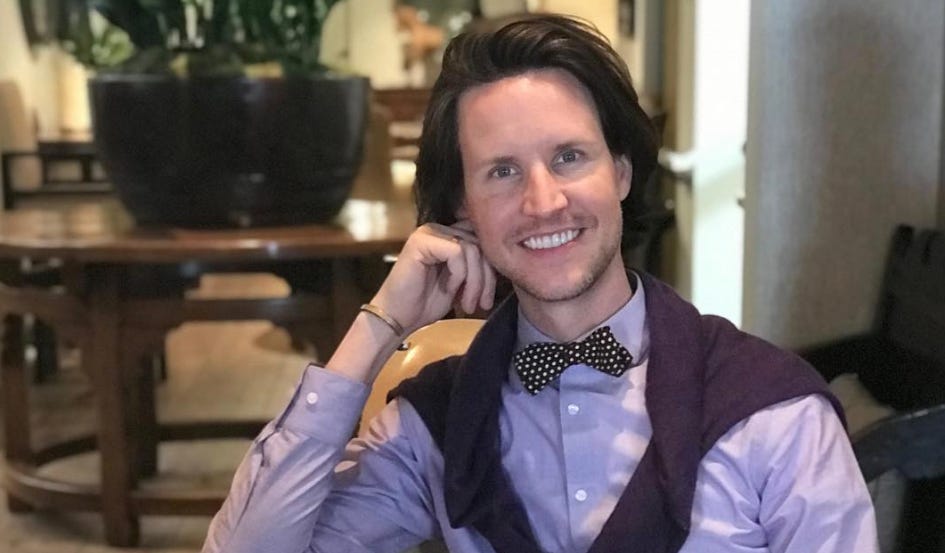 Jonathan, my lovely pal who lives in L.A., makes everything he touches gorgeous. Evidence: at his wedding weekend earlier this year, he alerted us all to the location of the restrooms in case anyone had a, quote, "biological opportunity." (Everyone who heard him say this then adopted it immediately as their new preferred euphemism for everything.) And on a trip to Provence in 2017, Jonathan popped across the street from our AirBNB to casually gather fig leaves to decorate a charcuterie platter. Basically, Jonathan is a human who Knows How To Life. I asked him to write something crafty for y'all for my first newsletter, and here it is. Weekend-project time, y'all!
NOTHING QUITE SAYS FALL like an autumnal display. A stoop loaded with pumpkins and mums, a sideboard groaning under the weight of Indian corn and mini-gourds, hay bales and corn stalks massed around anything vertical and inanimate. But what if your budget is less Martha-Stewart-presents-Haunted-Mansion and more minimalist? There are several ways to acknowledge the season in style, celebrating pumpkins' form as objet, or by using their shells as container.

The undulations of the pumpkin are uniquely beautiful. Instead of a variegated pile strewn across a table, buy the palest varieties and mass them in similarly colored containers, which shows off their form. Or use pumpkinettes as place-card holders with your guests' names on an ivory paper leaf, or, if you've good handwriting, scrawled across the pumpkin itself.  (photo credit: author's own)

Another lovely option for these minis is more labor-intensive: pumpkin shell as vessel. Small pumpkins can become natural votives by hollowing out to accommodate a tealight, which would be smashing lining the center of the table or nestled amongst dishes on the sideboard.

Medium-sized pumpkins are often just right for a vase with a flower arrangement inside. Take extra care to mask the edge of the interior vessel and the pumpkin's edge with greenery and flowers. I've tried just filling the pumpkin with water, but the flowers don't last as long and it makes changing the water daily* much more difficult. *By the way: if you're not changing your flower arrangement water and re-clipping the stems ¼" every day, you are only getting half the shelf life out of your cut flowers. (photo credit: malkovstock/getty images)

The biggest pumpkins can be repurposed to hold a glass bowl of punch or cider, or a tureen for a pumpkin bisque.
That trick he gives about cut-flower displays, by the way? He told me about that back in 2002, and it blew my mind. I follow his instructions to this day. And because he did styling for a lot of the theatre shows we did in college, he also taught me the best way to apply eyeliner. Basically, I think everyone should bring a little Jonathan into their lives.
AND NOW, GENERAL LIFE UPDATES
For this very first newsletter, I wanted to provide some context about Where I'm At In My Life Or Whatever:
Grant and Woodrow and I love Vancouver, though it's about to be the part of the year (read: the eight or nine months of the year) where it rains forever. None of us really minds the rain, though, which is fortunate since, as I mentioned, it's about to be RAIN-THOUSAND.

Quupe (the business I co-founded in 2016) is cruising along. My business partner, Zeeshan, is working on our Toronto expansion, and I've been a little more hands-off this year with other projects. We had an inauspicious thing happen with an academic professor early this year, the short story of which is, we gave her a couple of interviews about our business and its operation and our tech, and then she revealed ev-er-y-thing we told her, in detail, to two of our local competitors, one of whom she was also working with on an undisclosed project that was a biiiig ol' conflict of interest. (Long story: the same, but a lot more of me yelling UGH, SOME PEOPLE, I JUST CANNOT and sloshing my wine around.) So that was a bummer, but probably (…hopefully) minor in the long run. We're persevering.

Grant and I made a mural. It only took us 17 months! I'm so proud!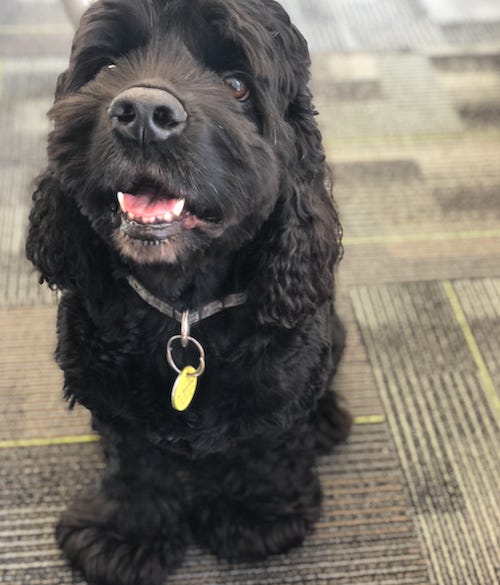 Okay so in reality, he's probably making that face not so much in contentment, but in an attempt to persuade me to give him my empanada. Those two emotional states admittedly look similar in all of us.
That's it from over this way. Thanks for subscribing, y'all! Please send along all photos of your children, pets, plants, or loved ones in absurd Halloween costumes.
'Til next time!